DiI(细胞膜红色荧光探针)

产品编号:

C1036


产品包装: 10mg




产品价格: 408.00元
产品简介
产品简介:
DiI即DiIC18(3),全称为1,1'-dioctadecyl-3,3,3',3'-tetramethylindocarbocyanine
perchlorate,是最常用的细胞膜荧光探针之一,呈现橙红色荧光。DiI是一种亲脂性膜染料,进入细胞膜后可以侧向扩散逐渐使整个细胞的细胞膜被染色。
DiI在进入细胞膜之前荧光非常弱,仅当进入到细胞膜后才可以被激发出很强的荧光。DiI被激发后
可以发出橙红色的荧光,DiI和磷酯双层膜结合后的激发光谱和发射光谱参考下图。其中,最大激发波长为549nm,最大发射波长为565nm。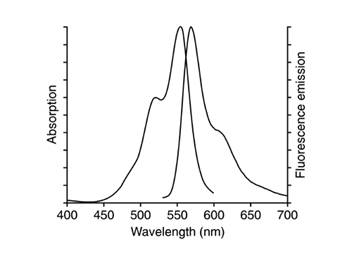 DiI的分子式为C59H97ClN2O4,分子量为933.88,CAS number为41085-99-8。
DiI可以溶解于无水乙醇、DMSO和DMF,溶解度约为1-2.5mg/ml。发现较难溶解时可以适当加热,并
用超声处理以促进溶解。
DiI被广泛用于正向或逆向的,活的或固定的神经等细胞或组织的示踪剂或长期示踪剂(long-term
tracer)。DiI通常不会影响细胞的生存力(viability)。被DiI标记的神经细胞在体外培养的条件下可以存活长达4周,在体内可以长达一年。DiI在经过固定的神经元细胞膜上的迁移速率为0.2-0.6mm/day,在活的神经元细胞膜上的的迁移速率为6mm/day。
DiI除了最简单的细胞膜荧光标记外,还可以用于检测细胞的融合和粘附,检测发育或移植过程中细胞迁移,通过FRAP(Fluorescence Recovery After Photobleaching)检测脂在细胞膜上的扩散,检测细胞毒性和标记脂蛋白等。
用于细胞膜荧光标记时,DiI的常用浓度为1-25μM,最常用的浓度为5-10μM。DiI可以直接染色活
的细胞或组织,染色时间通常为5-20分钟。对于固定的细胞或组织,通常宜使用配制在PBS中的4%多聚甲醛进行固定,使用其它不适当的固定液会导致荧光背景较高。
包装清单:
| | | |
| --- | --- | --- |
| 产品编号 | 产品名称 | 包装 |
| C1036 | DiI(细胞膜红色荧光探针) | 10mg |
| — | 说明书 | 1份 |
保存条件:
4℃避光保存,一年有效。配制的储存液-20℃避光保存,半年有效。
注意事项:
荧光染料均存在淬灭问题,请尽量注意避光,以减缓荧光淬灭。
为了您的安全和健康,请穿实验服并戴一次性手套操作。

使用说明
产品图片
相关产品
相关论文
使用本产品的文献:
1. Zhu C, Huang H, Hua R, Li G, Yang D, Luo J, Zhang C, Shi L, Benovic JL, Zhou N.
Molecular and functional characterization of adipokinetic hormone receptor and its
peptide ligands in Bombyx mori.
FEBS Lett. 2009 May 6;583(9):1463-8. Epub 2009 Apr 2.
2. Danhier F, Lecouturier N, Vroman B, Jérôme C, Marchand-Brynaert J, Feron O, Préat V.
Paclitaxel-loaded PEGylated PLGA-based nanoparticles: in vitro and in vivo evaluation.
J Control Release. 2009 Jan 5;133(1):11-7. doi: 10.1016/j.jconrel.2008.09.086.
Epub 2008 Oct 9.
3. Chen DQ, Jiang XQ, Zhang C, Ping QE
pH-Sensitive mPEG-Hz-Cholesterol Conjugates as a Liposome Delivery System
Journal of Bioactive and Compatible Polymers September 2010 vol.25 no.5 527-542
4. Yu L, Lv JC, Zhou XJ, Zhu L, Hou P, Zhang H.
Abnormal expression and dysfunction of novel SGLT2 mutations identified in familial
renalglucosuria patients.
Hum Genet. 2011 Mar;129(3):335-44. Epub 2010 Dec 17.
5. Liu M, Li ZH, Xu FJ, Lai LH, Wang QQ, Tang GP, Yang WT
An oligopeptide ligand-mediated therapeutic gene nanocomplex for liver cancer-targeted
therapy.
Biomaterials. 2012 Mar;33(7):2240-50. doi: 10.1016/j.biomaterials.2011.11.082.
Epub 2011 Dec 16.
6. Cheng C, Zhang XG, Xiang JX, Wang YX, Zhang C, Lu ZT, Li CX
Development of novel self-assembled poly(3-acrylamidophenylboronic acid)/poly
(2-lactobionamidoethyl methacrylate) hybrid nanoparticles for improving nasal adsorption
of insulin
Soft Matter, 2012,8, 765-773
7. Li RJ, Ying X, Zhang Y, Ju RJ, Wang XX, Yao HJ, Men Y, Tian W, Yu Y, Zhang L, Huang RJ,
Lu WL
All-trans retinoic acid stealth liposomes prevent the relapse of breast cancer arising
from thecancer stem cells.
J Control Release. 2011 Feb 10;149(3):281-91.
8. Cheng C, Zhang XG, Wang YX, Sun L, Li CX
Phenylboronic acid-containing block copolymers: synthesis, self-assembly, and
application for intracellular delivery of proteins
New J. Chem., 2012,36, 1413-1421
9. Zhao W, Zhang WP, Zhang ZL, He RL, Lin Y, Xie M, Wang HZ, Pang DW.
Robust and highly sensitive fluorescence approach for point-of-care virus detection
based onimmunomagnetic separation.
Anal Chem. 2012 Mar 6;84(5):2358-65. doi: 10.1021/ac203102u. Epub 2012 Feb 16.
10.Li G, Lin DH, Xie XX, Qin LF, Wang JT.
Cellular Uptake of PEGylated PLGA Nanoparticles in Hela Cells.
Frontier of Nanoscience and Technology II,2012(58), 80-83.
11.Li G, Zhou Q, Yu Y, Chen L, Shi Y, Luo J, Benovic J, Lu J, Zhou N.
Identification and characterization of distinct C-terminal domains of the human
hydroxycarboxylic acid receptor-2 that are essential for receptor export, constitutive
activity, desensitization, and internalization.
Mol Pharmacol. 2012 Dec;82(6):1150-61. doi: 10.1124/mol.112.081307. Epub 2012 Sep 7.
12.Bo Y, Yan L, Gang Z, Tao L, Yinghui T.
Effect of calcitonin gene-related peptide on osteoblast differentiation in an
osteoblast and endothelial cell co-culture system.
Cell Biol Int. 2012 Oct 1;36(10):909-15. doi: 10.1042/CBI20110562.
13.Chen C, Diao D, Guo L, Shi M, Gao J, Hu M, Yu M, Qian L, Guo N.
All-trans-retinoic acid modulates ICAM-1 N-glycan composition by influencing GnT-III
levels and inhibits celladhesion and trans-endothelial migration.
PLoS One. 2012;7(12):e52975. doi: 10.1371/journal.pone.0052975. Epub 2012 Dec 26.
14.Guo T, Ke L, Qi B, Wan J, Ge J, Bai L, Cheng B.
PTX3 is located at the membrane of late apoptotic macrophages and mediates the
phagocytosis of macrophages.
J Clin Immunol.2012 Apr;32(2):330-9.doi:10.1007/s10875-011-9615-6.Epub 2011 Dec 16.
15.Yin T, Wang P, Zheng R, Zheng B, Cheng D, Zhang X, Shuai X.
Nanobubbles for enhanced ultrasound imaging of tumors.
Int J Nanomedicine. 2012;7:895-904. doi: 10.2147/IJN.S28830. Epub 2012 Feb 22.
16.Liu L, Kou P, Zeng Q, Pei G, Li Y, Liang H, Xu G, Chen S.
CD4+ T Lymphocytes, especially Th2 cells, contribute to the progress of renal fibrosis.
Am J Nephrol. 2012;36(4):386-96. doi: 10.1159/000343283. Epub 2012 Oct 9.
17.Meng Z, Zhang XY, Guo J, Xiang LX, Shao JZ.
Scavenger receptor in fish is a lipopolysaccharide recognition molecule involved in
negative regulation of NF-κB activation by competing with TNF receptor-associated
factor 2 recruitment into the TNF-α signaling pathway.
J Immunol. 2012 Oct 15;189(8):4024-39.
18.Guo HF, Li ZS, Dong SW, Chen WJ, Deng L, Wang YF, Ying DJ.
Piezoelectric PU/PVDF electrospun scaffolds for wound healing applications.
Colloids Surf B Biointerfaces.2012 Aug 1;96:29-36.
doi:10.1016/j.colsurfb.2012.03.014.Epub 2012 Mar 29.
19.Jiang H, Chen SS, Yang J, Chen J, He B, Zhu LH, Wang L.
CREB-binding protein silencing inhibits thrombin-induced endothelial progenitor cells
angiogenesis.
Mol Biol Rep. 2012 Mar;39(3):2773-9. doi: 10.1007/s11033-011-1035-4. Epub 2011 Jun 14.
20.Bi RY, Kou XX, Meng Z, Wang XD, Ding Y, Gan YH.
Involvement of trigeminal ganglionic Na(v) 1.7 in hyperalgesia of inflamed
temporomandibular joint is dependent on ERK1/2 phosphorylation of glial cells in rats.
Eur J Pain. 2012 Dec 14. doi: 10.1002/j.1532-2149.2012.00262.x. [Epub ahead of print].
21.He B, Jia Z, Du W, Yu C, Fan Y, Dai W, Yuan L, Zhang H, Wang X, Wang J, Zhang X,
Zhang Q.
The transport pathways of polymer nanoparticles in MDCK epithelial cells.
Biomaterials. 2013 Jun;34(17):4309-26. doi: 10.1016/j.biomaterials.2013.01.100.
Epub 2013 Mar 7.
22.Li J, Cheng Y, Zhang X, Zheng L, Han Z, Li P, Xiao Y, Zhang Q, Wang F.
The in vivo immunomodulatory and synergistic anti-tumor activity of thymosin
α1-thymopentin fusion peptide and its binding to TLR2.
Cancer Lett.2013 May 14.pii:S0304-3835(13)00375-3.doi:10.1016/j.canlet.2013.05.006.
[Epub ahead of print].
23.Zhu H, Cao J, Cui S, Qian Z, Gu Y.
Enhanced tumor targeting and antitumor efficacy via hydroxycamptothecin-encapsulated
folate-modified N-succinyl-N'-octyl chitosan micelles.
J Pharm Sci. 2013 Apr;102(4):1318-32. doi: 10.1002/jps.23470. Epub 2013 Feb 11.
24.Zhang XY, Xiao YQ, Zhang Y, Ye W.
Protective effect of pioglitazone on retinal ischemia/reperfusion injury in rats.
Invest Ophthalmol Vis Sci. 2013 Jun 6;54(6):3912-21. doi: 10.1167/iovs.13-11614.
25.Yang J, Huang H, Yang H, He X, Jiang X, Shi Y, Alatangaole D, Shi L, Zhou N.
Specific activation of the G protein-coupled receptor BNGR-A21 by the neuropeptide
corazonin from the silkworm, Bombyx mori, dually couples to the G(q) and G(s) signaling
cascades.
J Biol Chem.2013 Apr 26;288(17):11662-75.doi:10.1074/jbc.M112.441675.Epub 2013 Mar 1.
26.Zheng C, Guo Q, Wu Z, Sun L, Zhang Z, Li C, Zhang X.
Amphiphilic glycopolymer nanoparticles as vehicles for nasal delivery of peptides and
proteins.
Eur J Pharm Sci.2013 May 3.pii:S0928-0987(13)00170-X.doi: 10.1016/j.ejps.2013.04.027.
[Epub ahead of print].
27.Sun X, Liu X, Zhang Y, Kuang X, Lv B, Ge J.
A simple and effective pressure culture system modified from a transwell cell culture
system.
Biol Res. 2013;46(1):47-52. doi: 10.4067/S0716-97602013000100007.
28.Cai J, Han Y, Ren H, Chen C, He D, Zhou L, Eisner GM, Asico LD, Jose PA, Zeng C.
Extracellular vesicle-mediated transfer of donor genomic DNA to recipient cells is a
novel mechanism for geneticinfluence between cells.
J Mol Cell Biol. 2013 Apr 11. [Epub ahead of print].
29.Li W, Zhou M, Ren H, Hu HM, Lu L, Cao M, Wang LX.
Tumor-derived autophagosomes (DRibbles) induce B cell activation in a TLR2-MyD88
dependent manner.
PLoS One. 2013;8(1):e53564. doi: 10.1371/journal.pone.0053564. Epub 2013 Jan 9.
30.Liu L,Zhao L, Yang J, Wan X, Hu N,Yeh L, Joo SW, Qian S.
Low‐Voltage Pulsed Electric Field Sterilization on a Microfluidic Chip.
Electroanalysis.Volume 25, Issue 5, pages 1301–1309, May 2013.
31.Liu H, Peng H, Wu Y, Zhang C, Cai Y, Xu G, Li Q, Chen X, Ji J, Zhang Y, OuYang HW.
The promotion of bone regeneration by nanofibrous hydroxyapatite/chitosan scaffolds by
effects on integrin-BMP/Smad signaling pathway in BMSCs.
Biomaterials. 2013 Jun;34(18):4404-17. doi: 10.1016/j.biomaterials.2013.02.048.
Epub 2013 Mar 17.
32.Li H, Feng Z, Tsang TC, Tang T, Jia X, He X, Pennington ME, Badowski MS, Liu AK, Chen D,
Harris DT, Martinez J, Meade-Tollin LC.
Fusion of HepG2 cells with mesenchymal stem cells increases cancer associated and
malignant properties: an in vivo metastasis model.
Oncol Rep. 2014 Aug;32(2):539-47. doi: 10.3892/or.2014.3264. Epub 2014 Jun 13.
33.Qian J, Wu C, Chen X, Li X, Ying G, Jin L, Ma Q, Li G, Shi Y, Zhang G, Zhou N.
Differential requirements of arrestin-3 and clathrin for ligand-dependent and
-independent internalization of human G protein-coupled receptor 40.
Cell Signal. 2014 Nov;26(11):2412-23. doi: 10.1016/j.cellsig.2014.07.019. Epub 2014
Jul 16.
34.Deng X, Yang H, He X, Liao Y, Zheng C, Zhou Q, Zhu C, Zhang G, Gao J, Zhou N.
Activation of Bombyx neuropeptide G protein-coupled receptor A4 via a Gαi-dependent
signaling pathway by direct interaction with neuropeptide F from silkworm, Bombyx mori.
Insect Biochem Mol Biol. 2014 Feb;45:77-88. doi: 10.1016/j.ibmb.2013.12.007. Epub
2013 Dec 27.
35.Mi XG, Song ZB, Wu P, Zhang YW, Sun LG, Bao YL, Zhang Y, Zheng LH, Sun Y, Yu CL, Wu Y,
Wang GN, Li YX.
Alantolactone induces cell apoptosis partially through down-regulation of testes-
specific protease 50 expression.
Toxicol Lett. 2014 Jan 30;224(3):349-55. doi: 10.1016/j.toxlet.2013.11.002. Epub 2013
Nov 16.
36.Yang X, Wu L, Duan X, Cui L, Luo J, Li G.
Adenovirus carrying gene encoding Haliotis discus discus sialic acid binding lectin
induces cancer cell apoptosis.
Mar Drugs. 2014 Jun 30;12(7):3994-4004. doi: 10.3390/md12073994.
37.Song K, Han Y, Zhang L, Liu G, Yang P, Cheng X, Bu L, Sheng H, Qu S.
ATP Synthase β-Chain Overexpression in SR-BI Knockout Mice Increases HDL Uptake and
Reduces Plasma HDL Level.
Int J Endocrinol. 2014;2014:356432. doi: 10.1155/2014/356432. Epub 2014 Jul 10.
38.Xu N, Wang J, Zhang ZF, Pang DW, Wang HZ, Zhang ZL.
Anisotropic cell-to-cell spread of vaccinia virus on microgrooved substrate.
Biomaterials. 2014 Jun;35(19):5049-55. doi: 10.1016/j.biomaterials.2014.03.019. Epub
2014 Mar 28.