| | | | |
| --- | --- | --- | --- |
| 产品编号 | 产品名称 | 产品包装 | 产品价格 |
| C0036 | WST-1细胞增殖及细胞毒性检测试剂盒 | 500次 | 408.00元 |
WST-1细胞增殖及细胞毒性检测试剂盒(WST-1 Cell Proliferation and Cytotoxicity Assay Kit)是一种广泛应用于细胞增殖和细胞毒性的快速高灵敏度检测试剂盒。
WST-1是一种类似于MTT的化合物,在电子耦合试剂存在的情况下,可以被线粒体内的一些脱氢酶还原生成橙黄色的
formazan(参考图1)。细胞增殖越多越快,则颜色越深;细胞毒性越大,则颜色越浅。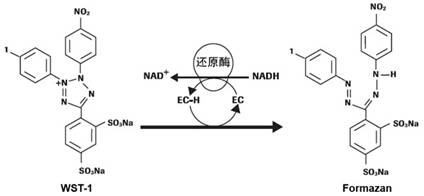 图1. WST-1检测原理图 (EC=electron coupling reagent,即电子耦合试剂)
WST-1是MTT的一种升级替代产品,和MTT或其它MTT类似产品如XTT、MTS等相比有明显的优点。首先,MTT被线粒体内的一些脱氢酶还原生成的formazan不是水溶性的,需要有特定的溶解液来溶解;而WST-1和XTT、MTS产生的formazan都是水溶性的,可以省去后续的溶解步骤。其次,WST-1产生的formazan比XTT和MTS产生的formazan更易溶解。再次,WST-1比XTT和MTS更加稳定,使实验结果更加稳定。另外,WST-1和MTT、XTT等相比,线性范围更宽,灵敏度更高(参考图2)。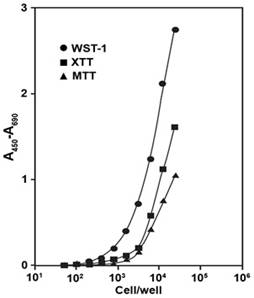 图2. WST-1、XTT和MTT的检测效果比较 注:450nm为测定波长,690nm为参考波长
本试剂盒可以用于细胞因子等诱导的细胞增殖检测,也可以用于抗癌药物等对细胞有毒试剂诱导的细胞毒性检测,或一些药物诱导的细胞生长抑制检测等。
本试剂盒检测非常便捷。无须使用同位素,所有的检测步骤仅在同一块96孔板内完成。不必洗涤细胞,不必收集细胞,也不必采用额外步骤去溶解formazan。可以用于大批量样品的检测。
酚红和血清对本试剂盒的测定无明显影响。
WST-1对细胞无明显毒性。加入WST-1显色后,可以在不同时间反复用酶标仪读板,使检测时间更加灵活,便于找到最佳测定时间。
碧云天各种细胞增殖和细胞毒性检测试剂盒的比较和选择,请参考http://www.beyotime.com/cell-proliferation.htm。
本试剂盒可以测定500个样品。
包装清单:
| | | |
| --- | --- | --- |
| 产品编号 | 产品名称 | 包装 |
| C0036-1 | WST-1(粉末) | 1瓶 |
| C0036-2 | 电子耦合试剂 | 5ml |
| — | 说明书 | 1份 |
保存条件:
-20℃避光保存,一年有效。WST-1粉末溶解后,4℃避光可以保存一周,-20℃避光可以保存半年(宜适当分装,尽量避免反复冻融)。
注意事项:
由于使用96孔板进行检测,如果细胞培养时间较长,一定要注意蒸发的问题。一方面,由于96孔板周围一圈最容易蒸发,可以采取弃用周围一圈的办法,改加PBS,水或培养液;另一方面,可以把96孔板置于靠近培养箱内水源的地方,以缓解蒸发。
本产品仅限于专业人员的科学研究用,不得用于临床诊断或治疗,不得用于食品或药品,不得存放于普通住宅内。
为了您的安全和健康,请穿实验服并戴一次性手套操作。
使用说明:
1. WST-1溶液的配制:把5毫升电子耦合试剂加入到WST-1粉末中,完全溶解即成WST-1溶液。WST-1溶液4℃
避光可保存一周,而不影响使用效果。短期内不使用的WST-1溶液,分装后可以-20℃避光保存半年(尽量
避免反复冻融)。冻存的WST-1溶液溶解后可能会观察到一些沉淀物,这是正常现象,37℃水浴孵育2-10
分钟,通常可以完全溶解。
2. 通常细胞增殖实验每孔加入100微升2000个细胞,细胞毒性实验每孔加入100微升5000个细胞(具体每孔所
用的细胞的数目,需根据细胞的大小,细胞增殖速度的快慢等因素决定)。按照实验需要,进行培养并给
予0-10微升特定的药物刺激。
3. 每孔加入10微升WST-1溶液。如果起始的培养体积为200微升,则需加入20微升WST-1溶液,其它情况以此
类推。可以用加了相应量细胞培养液和WST-1溶液但没有加入细胞的孔作为空白对照。
4. 在细胞培养箱内继续孵育0.5-4小时,对于大多数情况,孵育1-2小时就可以了。时间长短根据细胞的类
型和细胞的密度等实验情况而定,初次实验时可以在0.5、1、2和4小时后分别用酶标仪检测,然后选取
吸光度范围比较适宜的一个时间点用于后续实验。图3为HT-1080细胞在不同时间测定的细胞数量曲线。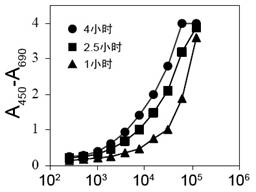 图3. HT-1080细胞培养20小时后,加入WST-1溶液后不同时间测得的吸光度。
5. 把96孔板置于摇床上摇动一分钟,以充分混匀待检测体系。
6. 在450nm测定吸光度。如无450nm滤光片,可以使用420-480nm的滤光片。可以使用大于600nm的波长作为
参考波长进行双波长测定。
使用本产品的文献:
1. Li H, Wang L, Ye L, Mao Y, Xie X, Xia C, Chen J, Lu Z, Song J.
Influence of Pseudomonas aeruginosa quorum sensing signal molecule N-(3-oxododecanoyl) homoserine lactone on mast cells.
Med Microbiol Immunol. 2009 May;198(2):113-21.
2. Yu M, Cai L, Liang M, Huang Y, Gao H, Lu S, Fei J, Huang F.
Alteration of NRSF expression exacerbating 1-methyl-4-phenyl-pyridinium ion-induced cell death of SH-SY5Y cells.
Neurosci Res. 2009 Nov;65(3):236-44.
3. Liu S, Yang P, Kang H, Lu L, Zhang Y, Pan J, Rui YC.
NDRG2 induced by oxidized LDL in macrophages antagonizes growth factor productions via selectively inhibiting ERK activation.
Biochim Biophys Acta. 2010 Feb;1801(2):106-13.
4. Cheng Y, Hu R, Jin H, Ma K, Zhou S, Cheng H, Ma D, Li X.
Effect of 14-3-3 tau protein on differentiation in BeWo choriocarcinoma cells.
Placenta. 2010 Nov;31(1):60-6.
5. Yuan H, Wang Y, Wu X, Wang H, Pu J, Ding W, Wang M, Shen X, Cong H, Zhang L, Zhang M, Ju S
Characterization of the 5'-flanking region and regulation of transcription of human BAFF-R gene.
DNA Cell Biol. 2010 Mar;29(3):133-9.
6. Zhang Q, Zhou H, Yan B.
Reducing nanotube cytotoxicity using a nano-combinatorial library approach.
Methods Mol Biol. 2010;625:95-107.

7. Wang J, Chen B, Chen J, Cai X, Xia G, Liu R, Chen P, Zhang Y, Wang X.
Synthesis and antitumor efficacy of daunorubicin-loaded magnetic nanoparticles
.
Int J Nanomedicine
. 2011;6:203-11.
8. Hu B, Li C, Lu H, Zhu Z, Du S, Ye M, Tan L, Ren D, Han J, Kan S, Wang J, Jin N
Immune responses to the oral administration of recombinant Bacillus subtilis expressingmulti-epitopes of foot-and-mouth disease virus and a cholera toxin B subunit.
J Virol Methods
. 2011 Jan;171(1):272-9.

9. Kai W, Xiaojun X, Ximing P, Zhenqing H, Qiqing Z.
Cytotoxic effects and the mechanism of three types of magnetic nanoparticles on humanhepatoma BEL-7402 cells.
Nanoscale Res Lett. 2011 Jul 29;6:480.
10. Shen X, Zhang X, Xu G, Ju S.
BAFF-R gene induced by IFN-γ in multiple myeloma cells is related to NF-κB signals.
Cell Biochem Funct. 2011 Aug;29(6):513-20.
11. Chang WQ, Wu XZ, Cheng AX, Zhang L, Ji M, Lou HX.
Retigeric acid B exerts antifungal effect through enhanced reactive oxygen species anddecreased cAMP.
Biochim Biophys Acta. 2011 May;1810(5):569-76.
12. Shen X, Zhu W, Zhang X, Xu G, Ju S.
A role of both NF-κB pathways in expression and transcription regulation of BAFF-R gene inmultiple myeloma cells.
Mol Cell Biochem. 2011 Nov;357(1-2):21-30.
13. Tan C, Zhang LY, Chen H, Xiao L, Liu XP, Zhang JX
Overexpression of the human ubiquitin E3 ligase CUL4A alleviates hypoxia-reoxygenation injuryin pheochromocytoma (PC12) cells.
Biochem Biophys Res Commun. 2011 Dec 16;416(3-4):403-8.

14. Han YH, Zhang ZW, Su J, Zhang B, Li S, Xu SW.
Effects of Chicken Selenoprotein W on H(2)O (2)-Induced Apoptosis in CHO-K1 Cells.
Biol Trace Elem Res
. 2012 Jun;147(1-3):395-402.
15. Jia R, Cao L, Xu P, Jeney G, Yin G.
In vitro and in vivo hepatoprotective and antioxidant effects of Astragalus polysaccharides againstcarbon tetrachloride-induced hepatocyte damage in common carp (Cyprinus carpio).
Fish Physiol Biochem
. 2012 Jun;38(3):871-81.

16. Wen H, Dong C, Dong H, Shen A, Xia W, Cai X, Song Y, Li X, Li Y, Shi D.
Engineered redox-responsive PEG detachment mechanism in PEGylated nano-graphene oxide forintracellular drug delivery.
Small. 2012 Mar 12;8(5):760-9.
17. Qin Y, Zhang S, Gong W, Li J, Jia J, Quan Z.
Adenovirus-mediated gene transfer of tissue factor pathway inhibitor-2 inhibits gallbladdercarcinoma growth in vitro and in vivo.
Cancer Sci. 2012 Apr;103(4):723-30.
18. Wang H, Cheng H, Wang K, Wen T
Different effects of histone deacetylase inhibitors nicotinamide and trichostatin A (TSA) in C17.2neural stem cells.
J Neural Transm.2012 Nov;119(11):1307-15.
19. Xu G, Shen XJ, Pu J, Chu SP, Wang XD, Wu XH, Sun CJ, Zhang X, Zhu BL, Ju SQ.
BLyS expression and JNK activation may form a feedback loop to promote survival and proliferation of multiplemyeloma cells.
Cytokine. 2012 Nov;60(2):505-13.
20. Cao X, Zhou M, Wang S, Wang C, Hou L, Luo Y, Chen L.
Inhibition on hepatitis B virus in vitro of lectin from Musca domestica pupa via the activation of NF-

κB.


Virus Res. 2012 Dec;170(1-2):53-8.
21. Liu S, Liu Z, Bi D, Yuan X, Liu X, Ding S, Lu J, Niu Z.
CCN3 (NOV) regulates proliferation, adhesion, migration and invasion in clear cell renal cell carcinoma.
Oncol Lett. 2012 May;3(5):1099-1104.
22. Li XY, Jing CQ, Zang XY, Yang S, Wang JJ.
Toxic cytological alteration and mitochondrial dysfunction in PC12 cells induced by 1-octyl-3-methylimidazoliumchloride.
Toxicol In Vitro. 2012 Oct;26(7):1087-92.


23. Wei N, Li T, Chen H, Mei X, Cao B, Zhang YY.


The Immunosuppressive Activity of Pseudolaric Acid B on T lymphocytes in vitro.
Phytother Res

.2013 Jul;27(7):980-5.


24. Cai X, Dong H, Ma J, Zhu H, Wu W,Chu M, Li Y, Shi D.
Effects of spatial distribution of the nuclear localization sequence on gene transfection in catiomer–gene polyplexes.
J. Mater. Chem. B. 2013 Jan.12:1712-21.
25. Yuan H, Zhang W, Li H, Chen C, Liu H, Li Z.
Neuroprotective effects of resveratrol on embryonic dorsal root ganglion neurons with neurotoxicity induced byethanol.
Food Chem Toxicol. 2013 May;55:192-201.
26. Yuan H, Zhang J, Liu H, Li Z.
The protective effects of resveratrol on Schwann cells with toxicity induced by ethanol in vitro.
Neurochem Int. 2013 Jun 13;63(3):146-153.
27. Liu Z, Yu Y, Yuan Z, Zhang F, Jing C.
Dexamethasone-induced apoptosis in PC12 cells.
Toxic Review.2013
May;
32(2):34-3.
28. Li T, Chen H, Yang Z, Liu XG, Zhang LM, Wang H.
Evaluation of the immunosuppressive activity of artesunate in vitro and in vivo.
Int Immunopharmacol. 2013 Jun;16(2):306-12.
29. Jing C, Li X, Zhang J, Wang J.
Responses of the Antioxidant System in QGY-7701 Cells to the Cytotoxicity and Apoptosis Induced by 1-Octyl-3-methylimidazolium Chloride.
J Biochem Mol Toxicol.2013 Jun;27(6):330-6.
30. Liu XD, Li XF, Feng XL, Zhou B, Cao RB, Chen PY.
Effect of sonication on B cell development and immunomodulatory functions of Bursa of Fabricius.
Ultrason Sonochem. 2014 Jul;21(4):1343-8.
31. Bai Y, Lu H, Hu L, Hong D, Ding L, Chen B.
Effect of Sedum sarmentosum BUNGE extract on aristolochic acid-induced renal tubular epithelial cell injury.
J Pharmacol Sci. 2014 Mar;124(4):445-56.
32. Yu Y, Yang Y, Wang J.
Anti-apoptotic and apoptotic pathway analysis of arsenic trioxide induced apoptosis in human gastric cancer SGC-7901 cells.
Oncol Rep. 2014 Sep;32(3):973-8.
33. Yin Y, Qin T, Yu Q, Yang Q.
Bursopentin (BP5) from chicken bursa of fabricius attenuates the immune function of dendritic cells.
Amino Acids. 2014 Jul;46(7):1763-74.
34. Yu T, Li L, Bi Y, Liu Z, Liu H, Li Z.
Erythropoietin attenuates oxidative stress and apoptosis in Schwann cells isolated from streptozotocin-induced diabetic rats.
J Pharm Pharmacol. 2014 Aug;66(8):1150-60.
35. Liu XD, Zhou B, Cao RB, Feng XL, Ma ZY, Chen PY.
BP5 regulated B cell development promoting anti-oxidant defence.
Amino Acids. 2014 Jan;46(1):209-22.
36. Weng M, Gong W, Ma M, Chu B, Qin Y, Zhang M, Lun X, McFadden G, Forsyth P, Yang Y, Quan Z.
Targeting gallbladder cancer: oncolytic virotherapy with myxoma virus is enhanced by rapamycin in vitro and further improved by hyaluronan in vivo.
Mol Cancer. 2014 Apr 13;13:82.
37. Zeng M, Wei X, Wu Z, Li W, Li B, Fei Y, He Y, Chen J, Wang P, Liu X.
Reactive oxygen species contribute to simulated ischemia/reperfusion-induced autophagic cell death in human umbilical vein endothelial cells.
Med Sci Monit. 2014 Jun 19;20:1017-23.
38. Li R, Feng F, Wang Y, Yang X, Yang X, Yang VC.
Folic acid-conjugated pH/temperature/redox multi-stimuli responsive polymer microspheres for delivery of anti-cancer drug.
J Colloid Interface Sci. 2014 Sep 1;429:34-44.
39. Weng M, Zhang M, Qin Y, Gong W, Tang Z, Quan Z, Wu K.
Targeting gallbladder carcinoma: bone marrow-derived stem cells as therapeutic delivery vehicles of myxoma virus.
Chin Med J (Engl). 2014;127(12):2350-6.
40. Rong WT, Lu YP, Tao Q, Guo M, Lu Y, Ren Y, Yu SQ.
Hydroxypropyl-sulfobutyl-β-cyclodextrin improves the oral bioavailability of edaravone by modulating drug efflux pump of enterocytes.
J Pharm Sci. 2014 Feb;103(2):730-42.
41. Liu YJ, Du JL, Cao LP, Jia R, Shen YJ, Zhao CY, Xu P, Yin GJ.
Antiinflammatory and hepatoprotective effects of Ganoderma lucidum polysaccharides on carbon tetrachlorideinduced hepatocyte damage in common carp (Cyprinus carpio L.).
Int Immunopharmacol. 2015 Mar;25(1):112-20.
42. Yu T, Li L, Chen T, Liu Z, Liu H, Li Z.
Erythropoietin attenuates advanced glycation endproducts-induced toxicity of Schwann cells in vitro.
Neurochem Res. 2015 Apr;40(4):698-712.
43. Li Y, Xie P, Sun M, Xiang B, Kang Y, Gao P, Zhu W, Ning Z, Ren T.
S1PR1 expression correlates with inflammatory responses to Newcastle disease virus infection.
Infect Genet Evol. 2015 Oct 24;37:37-42.
44. Yang FL, Chen FZ, Wan XX, Zhou X, Zhou MJ, Chen HC, Fu JJ, Zhang DZ.
Effects ofa Particular Heptapeptide ontheIFN-α-Sensitive CML Cells.
Biomed Res Int. 2015;2015:325026.
45. Li JP.
Resveratrol caused apoptosis in QGY-7701 cells.
Eur Rev Med Pharmacol Sci. 2015 Sep;19(17):3303-8.
46. Lv S, Sun EC, Xu QY, Zhang JK, Wu DL.
Endoplasmic reticulum stress-mediated autophagy contributes to bluetongue virus infection via thePERK-eIF2αpathway.
Biochem Biophys Res Commun. 2015 Oct 23;466(3):406-12.
47. Jianhe Liang, Ran Song, Qiaoling Huang, Yun Yang, Longxiang Lin, Yanmei Zhang, Pinliang Jiang, Hongping Duan, Xiang Dong, Changjian Lin.
Electrochemical construction of a bio-inspired micro/nano-textured structure with cell-sized microhole arrays on biomedical titanium to enhance bioactivity.
Electrochimica Acta, 2015 Aug;174:1149-59.
48. Bao J, Huang B, Zou L, Chen S, Zhang C, Zhang Y, Chen M, Wan JB, Su H, Wang Y, He C.
Hormetic Effect of Berberine Attenuates the Anticancer Activity of Chemotherapeutic Agents.
PLoS One. 2015 Sep 30;10(9):e0139298.
49. Tang T, Jiang H, Yu Y, He F, Ji SZ, Liu YY, Wang ZS, Xiao SC, Tang C, Wang GY, Xia ZF.
A new method of wound treatment: targeted therapy of skin wounds with reactive oxygen species-responsivenanoparticles containing SDF-1α.
Int J Nanomedicine. 2015 Oct 19;10:6571-85.
50. Lv S, Xu Q, Sun E, Yang T, Li J, Feng Y, Zhang Q, Wang H, Zhang J, Wu D.
Autophagy Activated by Bluetongue Virus Infection Plays a Positive Role in Its Replication.
Viruses. 2015 Aug 17;7(8):4657-75.


51.Zhang Z, Zhou B, Zhang K, Song Y, Zhang L, Xi M.


IL-27 suppresses SKOV3 cells proliferation by enhancing STAT3 and inhibiting the Akt signal pathway.
Mol Immunol.

2016 Oct;78:155-163.




52.Feng S, Yang Y, Lv J, Sun L, Liu M.


Valproic acid exhibits different cell growth arrest effect in three HPV-positive/negative cervical cancercells and possibly via inducing Notch1 cleavage and E6 downregulation.
Int J Oncol.

2016 Jul;49(1):422-30.




53.Xie X, Han M, Zhang L, Liu L, Gu Z, Yang M, Yang H.


Effects of Mycobacterium tuberculosis ESAT6-CFP10 Protein on Cell Viability and Production of NitricOxide in Alveolar Macrophages.
Jundishapur J Microbiol.

2016 May 30;9(6):e33264.




54.Shen X, Guo Y, Qi J, Shi W, Wu X, Ju S.


Binding of B-cell maturation antigen to B-cell activating factor induces survival of multiple myeloma cellsby activating Akt and JNK signaling pathways.
Cell Biochem Funct.

2016 Mar;34(2):104-10.




55.Zhang C, Wu JM, Liao M, Wang JL, Xu CJ.


The ROCK/GGTase Pathway Are Essential to the Proliferation and Differentiation of Neural Stem CellsMediated by Simvastatin.
J Mol Neurosci.

2016 Dec;60(4):474-485.


56.Wu F, Li Y, Song H, Zhang Y, Zhang Y, Jiang M, Wang F, Mu Q, Zhang W, Li L, Tang D.
;Preventive Effect of Dihydromyricetin against Cisplatin-Induced Nephrotoxicity In Vitro and In Vivo.
Evid Based Complement Alternat Med.

2016;2016:7937385.




57.Zhao LX, Du JR, Zhou HJ, Liu DL, Gu MX, Long FY.


Differences in Proinflammatory Property of Six Subtypes of Peroxiredoxins and Anti-Inflammatory Effectof Ligustilide in Macrophages.
PLoS One.

2016 Oct 7;11(10):e0164586.




58.Wang XD, Li CY, Jiang MM, Li D, Wen P, Song X, Chen JD, Guo LX, Hu XP, Li GQ, Zhang J, Wang CH, He ZD.


Induction of apoptosis in human leukemia cells through an intrinsic pathway by cathachunine, a uniquealkaloid isolated from Catharanthus roseus.
Phytomedicine.

2016 Jun 1;23(6):641-53.




59.Lv S, Xu Q, Sun E, Zhang J, Wu D.


Impaired cellular energy metabolism contributes to bluetongue-virus-induced autophagy.
Arch Virol.

2016 Oct;161(10):2807-11.




60.Xu D, Li Y, Zhang B, Wang Y, Liu Y, Luo Y, Niu W, Dong M, Liu M, Dong H.


Resveratrol alleviate hypoxic pulmonary hypertension via anti-inflammation and anti-oxidant pathways inrats.
Int J Med Sci.

2016 Nov 23;13(12):942-954.




61.He S, Lin KF, Sun Z, Song Y, Zhao YN, Wang Z, Bi L, Liu J.


Effects of Nano-hydroxyapatite/Poly(DL-lactic-co-glycolic acid) Microsphere-Based Composite Scaffoldson Repair of Bone Defects: Evaluating the Role of Nano-hydroxyapatite Content.
Artif Organs.

2016 Jul;40(7):E128-35.




62.Li Y, Xie P, Sun M, Xiang B, Kang Y, Gao P, Zhu W, Ning Z, Ren T.


S1PR1 expression correlates with inflammatory responses to Newcastle disease virus infection.
Infect Genet Evol.

2016 Jan;37:37-42.




63.Cui J, Huang D, Zheng Y.


Ameliorative effects of α-lipoic acid on high-fat diet-induced oxidative stress and glucose uptakeimpairment of T cells.
Free Radic Res.

2016 Oct;50(10):1106-1115.




64.Zeng M, Wei X, Wu Z, Li W, Zheng Y, Li B, Meng X, Fu X, Fei Y.


Simulated ischemia/reperfusion-induced p65-Beclin 1-dependent autophagic cell death in humanumbilical vein endothelial cells.
Sci Rep.

2016 Nov 18;6:37448.




65.Yang C, Fu R, Zhuang Z, Wang S.


Studies on the biological functions of CPS1 in AFB1 induced hepatocarcinogenesis.
Gene.

2016 Oct 10;591(1):255-61.




66.He S, Lin KF, Fan JJ, Hu G, Dong X, Zhao YN, Song Y, Guo ZS, Bi L, Liu J.


Synergistic Effect of Mesoporous Silica and Hydroxyapatite in Loaded Poly(DL-lactic-co-glycolic acid)Microspheres on the Regeneration of Bone Defects.
Biomed Res Int.

2016;2016:9824827.




67.Li H, Gao R, Zhang Y.


A Promising Trigene Recombinant Human Adenovirus Vaccine Against Classical Swine Fever Virus.
Viral Immunol.

2016 May;29(4):244-51.


68.Zhang Y, Wang C, Cao Y, Gu Y, Zhang L.
Selective compounds enhance osteoblastic activity by targeting HECT domain of ubiquitin ligaseSmurf1.
Oncotarget. 2016 Jul 18;8(31):50521-50533.
69.Du C, Guo Y, Cheng Y, Han M, Zhang W, Qian H.
Torulene and torularhodin, protects human prostate stromal cells from hydrogen peroxide-induced oxidative stress damage throughthe regulation of Bcl-2/Bax mediated apoptosis.
Free Radic Res. 2017 Feb;51(2):113-123.
70.Yuyang WANG, Cheng CHENG, Peng GAO, Shaopeng LI, Jie SHEN, Yan LAN, Yongqiang YU and Paul K CHU.
Cold atmospheric-pressure air plasmatreatment of C6 glioma cells: effects ofreactive oxygen species in the mediumproduced by the plasma on cell death.
Plasma Sci. Technol.2017 19 025503 (6pp).
71.Yun Yang, Yanmei Zhang, Ren Hua, Qiaoling Huang, Ke Wu, Lihai Zhange, Peifu Tang and Changjian Lin.
Antibacterial and cytocompatible AgNPs constructed with the assistance of Mefp-1 for orthopaedic implants.
RSC Adv., 2017 7;38434-38443.
72.Zhou C, Rong Y, Konishi T, Xiang Z, Zihui F, Hong M.
Effect of Carbon-Ion Radiation on Drug Transporters Organic Anion Transporting Polypeptides in Breast Cancer Cells.
Radiat Res. 2017 Jun;187(6):689-700.
73.Wang J, Chen GL, Cao S, Zhao MC, Liu YQ, Chen XX, Qian C.
Adipogenic niches for melanoma cell colonization and growth in bone marrow.
Lab Invest. 2017 Jun;97(6):737-745.
74.Chen GL, Ye T, Chen HL, Zhao ZY, Tang WQ, Wang LS, Xia JL.
Xanthine dehydrogenase downregulation promotes TGFβ signaling and cancer stem cell-relatedgene expression in hepatocellular carcinoma.
Oncogenesis. 2017 Sep 25;6(9):e382.
75.Zhong Y, Yang J, Xu WW, Wang Y, Zheng CC, Li B, He QY.
KCTD12 promotes tumorigenesis by facilitating CDC25B/CDK1/Aurora A-dependent G2/Mtransition.
Oncogene. 2017 Nov 2;36(44):6177-6189.
76.Tian Q, Wang Y, Zhang Q, Luo J, Jiang H, Zhang B, Mei M, Wu F, Wu Y, Peng J, Long T, Luo Y, Guo X.
Phosphoprotein Gene Contributes tothe Enhanced Apoptosis Induced by Wild-Type RabiesVirus GD-SH-01 In Vitro.
Front Microbiol. 2017 Sep 5;8:1697.
77.Yu J, Yu Q, Liu Y, Zhang R, Xue L.
Hydrogen gas alleviates oxygen toxicity by reducing hydroxyl radical levels in PC12 cells.
PLoS One. 2017 Mar 31;12(3):e0173645.