| | | | |
| --- | --- | --- | --- |
| 产品编号 | 产品名称 | 产品包装 | 产品价格 |
| C2007 | Rhodamine 123 | 5mg | 253.00元 |
Rhodamine 123也称2-(6-Amino-3-imino-3H-xanthen-9-yl)benzoic acid methyl ester,中文名为罗丹明123,分子式为C21H17ClN2O3,分子量为380.82,CAS Number 62669-70-9,纯度>95%。
Rhodamine 123是一种可以通透细胞膜的选择性染色活细胞线粒体的阳离子黄绿色荧光染料,广泛用作检测线粒体膜电位(mitochondrial membrane potential)的荧光探针,也常用于细胞凋亡检测。在正常细胞中,Rhodamine 123能够依赖线粒体跨膜电位(mitochondrial transmembrane potential, ΔΨm)选择性进入线粒体基质,荧光强度减弱或消失(quench);在凋亡发生时,线粒体膜完整性被破坏,线粒体膜通透性转运孔开放,从而引起线粒体跨膜电位的崩溃,Rhodamine 123从线粒体基质中释放出来,黄绿色荧光增强(dequench)。该荧光可用荧光显微镜、流式细胞仪或其它荧光检测设备检测,通过荧光信号的强弱来确定线粒体膜电位的变化和凋亡的发生。
Rhodamine 123可以快速通过细胞膜,仅需几分钟就可以被具有活性的线粒体所俘获(sequestered by active
mitochondria),并且对细胞没有任何毒性。
Rhodamine 123的激发光谱和发射光谱参考下图,最大激发波长为507nm,最大发射波长为529nm。在荧光显微镜下观
察,呈现黄绿色荧光。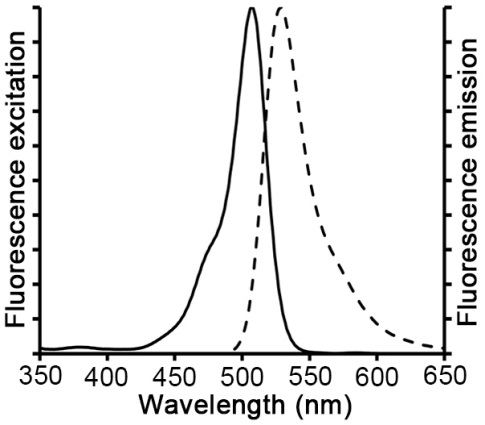 Rhodamine 123为红棕色粉末,溶于DMSO,也溶于乙醇,在乙醇中的溶解度可达20mg/ml。
包装清单:
| | | |
| --- | --- | --- |
| 产品编号 | 产品名称 | 包装 |
| C2007 | Rhodamine 123 | 5mg |
| — | 说明书 | 1份 |
保存条件:
室温避光保存,两年有效。溶于DMSO配制成母液后-20℃保存。
注意事项:
本产品仅限于专业人员的科学研究用,不得用于临床诊断或治疗,不得用于食品或药品,不得存放于普通住宅内。
为了您的安全和健康,请穿实验服并戴一次性手套操作
使用说明:

可以先配制1-5mM的母液。使用时通常使Rhodamine 123的终浓度为1-2μM即可。详细的使用方法请参考相关文献资料。
使用本产品的文献:
1. Yan C, Huang D, Zhang Y.
The involvement of ROS overproduction and mitochondrial dysfunction in PBDE-47-induced apoptosis on Jurkat cells.
Exp Toxicol Pathol. 2011 Jul;63(5):413-7.
2. Gao W, Xu K, Ji L, Tang B
Effect of gold nanoparticles on glutathione depletion-induced hydrogen peroxide generation andapoptosis in HL7702 cells.
Toxicol Lett. 2011 Aug 10;205(1):86-95.
3. Qu M, Li L, Chen C, Li M, Pei L, Chu F, Yang J, Yu Z, Wang D, Zhou Z.
Protective effects of lycopene against amyloid β-induced neurotoxicity in cultured rat cortical neurons.
Neurosci Lett. 2011 Nov 21;505(3):286-90.
4. Wang Y, Zhao X, Gao X, Nie X, Yang Y, Fan X.
Development of fluorescence imaging-based assay for screening cardioprotective compoundsfrom medicinal plants.
Anal Chim Acta. 2011 Sep 19;702(1):87-94.
5. Li BY, Yuan YH, Hu JF, Zhao Q, Zhang DM, Chen NH.
Protective effect of Bu-7, a flavonoid extracted from Clausena lansium, against rotenone injury inPC12 cells.
Acta Pharmacol Sin. 2011 Nov;32(11):1321-6.
6. Zhang WL, Zhao YL, Liu XM, Chen J, Zhang D
Protective role of mitochondrial K-ATP channel and mitochondrial membrane transport pore in ratkidney ischemic postconditioning.
Chin Med J (Engl). 2011 Jul;124(14):2191-5.
7. Wang M, Ruan Y, Chen Q, Li S, Wang Q, Cai J
Curcumin induced HepG2 cell apoptosis-associated mitochondrial membrane potential and intracellular free Ca(2+) concentration.
Eur J Pharmacol. 2011 Jan 10;650(1):41-7.
8. Gong K, Xie J, Yi H, Li W.
CS055 (Chidamide/HBI-8000), a novel histone deacetylase inhibitor, induces G1 arrest, ROS-dependent apoptosis and differentiation in human leukaemia cells.
Biochem J. 2012 May 1;443(3):735-46.
9. Chen HY, Zhang X, Chen SF, Zhang YX, Liu YH, Ma LL, Wang LX.
The protective effect of 17β-estradiol against hydrogen peroxide-induced apoptosis onmesenchymal stem cell.
Biomed Pharmacother. 2012 Feb;66(1):57-63.
10.Tan Q, Li Y, Wu J, Mei H, Zhao C, Zhang J.
An optimized molecular inclusion complex of diferuloylmethane: enhanced physical properties and biologicalactivity.
Int J Nanomedicine. 2012;5:5385-93.
11.Ren J, Cheng H, Xin WQ, Chen X, Hu K.
Induction of apoptosis by 7-piperazinethylchrysin in HCT-116 human colon cancer cells.
Oncol Rep. 2012 Nov;28(5):1719-26.
12.Zhang H, Liu B, Wu J, Xu C, Tao J, Duan X, Cao Y, Dong J.
Icariin inhibits corticosterone-induced apoptosis in hypothalamic neurons via the PI3-K/Akt signaling pathway.
Mol Med Rep. 2012 Nov;6(5):967-72.
13.Zhang H, Shao D, Wu Y, Cai C, Hu C, Shou X, Dai B, Ye B, Wang M, Jia X.
Apoptotic responses of Carassius auratus lymphocytes to nodularin exposure in vitro.
Fish Shellfish Immunol. 2012 Dec;33(6):1229-37.
14.Wang X, Bai H, Zhang X, Liu J, Cao P, Liao N, Zhang W, Wang Z, Hai C.
Inhibitory effect of oleanolic acid on hepatocellular carcinoma via ERK-p53-mediated cell cycle arrest andmitochondrial-dependent apoptosis.
Carcinogenesis. 2013 Jun;34(6):1323-30.
15.Shen XL, Zhang Y, Xu W, Liang R, Zheng J, Luo Y, Wang Y, Huang K.
An iTRAQ-based mitoproteomics approach for profiling the nephrotoxicity mechanisms of ochratoxin A in HEK293 cells.
J Proteomics.2013 Jan 14;78:398-415.
16.Luo Y, Yang X, Zhao S, Wei C, Yin Y, Liu T, Jiang S, Xie J, Wan X, Mao M, Wu J.
Hydrogen Sulfide Prevents OGD/R-induced Apoptosis via Improving Mitochondrial Dysfunction and Suppressing an ROS-mediated Caspase-3 Pathway in Cortical Neurons.
Neurochem Int.2013 Dec;63(8):826-31.
17.Tan Q, Wu J, Li Y, Mei H, Zhao C, Zhang J.
A supermolecular curcumin for enhanced antiproliferative and proapoptotic activities: molecular characteristics,computer modeling and in vivo pharmacokinetics.
Nanotechnology. 2013 Jan 25;24(3):035102.
18.Zhang H, Shao D, Wu Y, Dai B, Cai C, Fang W, Ye B, Zhang Y, liu J, Jia X.
Regulation of nodularin-induced apoptosis by epigallocatechin-3-gallate on fish lymphocytes in vitro.
Fish Shellfish Immunol. 2013 May;34(5):1085-93.
19.Li Z, Pan X, Wang T, Wang PN, Chen JY, Mi L.
Comparison of the killing effects between nitrogen-doped and pure TiO2 on HeLa cells with visible lightirradiation.
Nanoscale Res Lett. 2013 Feb 22;8(1):96.
20.Peng Z, Liu M, Fang Z, Chen L, Wu J, Zhang Q.
In vitro antiproliferative effect of a water-soluble Laminaria japonica polysaccharide on human melanoma cell lineA375.
Food Chem Toxicol.2013 Aug;58C:56-60.
21.Cui YT, Liu B, Xie J, Xu P, Habte-Tsion HM, Zhang YY.
The effect of emodin on cytotoxicity, apoptosis and antioxidant capacity in the hepatic cells of grass carp (Ctenopharyngodon idellus).
Fish Shellfish Immunol. 2014 May;38(1):74-9.
22.Shao D, Kan M, Qiao P, Pan Y, Wang Z, Xiao X, Li J, Chen L.
Celecoxib induces apoptosis via a mitochondria dependent pathway in the H22 mouse hepatoma cell line.
Mol Med Rep. 2014 Oct;10(4):2093-8.
23.Li Y, Zhang B, Huang K, He X, Luo Y, Liang R, Luo H, Shen XL, Xu W.
Mitochondrial proteomic analysis reveals the molecular mechanisms underlying reproductive toxicity of zearalenone in MLTC-1 cells.
Toxicology. 2014 Oct 3;324:55-67.
24.Zhang S, Nie S, Huang D, Feng Y, Xie M.
A novel polysaccharide from Ganoderma atrum exerts antitumor activity by activating mitochondria-mediated apoptotic pathway and boosting the immune system.
J Agric Food Chem. 2014 Feb 19;62(7):1581-9.
25.Lei T, Li H, Fang Z, Lin J, Wang S, Xiao L, Yang F, Liu X, Zhang J, Huang Z, Liao W.
Polysaccharides from Angelica sinensis alleviate neuronal cell injury caused by oxidative stress.
Neural Regen Res. 2014 Feb 1;9(3):260-7.
26.Zhang H, Xu HL, Fu WW, Xin Y, Li MW, Wang SJ, Yu XF, Sui DY.
20(S)-Protopanaxadiol Induces Human Breast Cancer MCF-7 Apoptosis through a Caspase-Mediated Pathway.
Asian Pac J Cancer Prev. 2014;15(18):7919-23.
27.An Z, Qi Y, Huang D, Gu X, Tian Y, Li P, Li H, Zhang Y.
EGCG inhibits Cd(2+)-induced apoptosis through scavenging ROS rather than chelating Cd(2+) in HL-7702 cells.
Toxicol Mech Methods. 2014 May;24(4):259-67.
28.Ying J, Xu H, Wu D, Wu X.
Emodin induces apoptosis of human osteosarcoma cells via mitochondria-and endoplasmic reticulum stress-related pathways.
Int J Clin Exp Pathol.2015 Oct 1;8(10):12837-44.
29.Liu B, Cui Y, Brown PB, Ge X, Xie J, Xu P.
Cytotoxic effects and apoptosis induction of enrofloxacin in hepatic cell line of grass carp (Ctenopharyngodon idellus).
Fish Shellfish Immunol.2015 Dec;47(2):639-44.
30.Kang Q, Yan S.
Piperlongumine reverses doxorubicin resistance through the PI3K/Akt signaling pathway in K562/A02 human leukemia cells.
Exp Ther Med.2015 Apr;9(4):1345-1350.
31.Qiu J, Liu X, Li X, Zhang X, Han P, Zhou H, Shao L, Hou Y, Min Y, Kong Z, Wang Y, Wei Y, Liu X, Ni H, Peng J, Hou M.
CD8(+) T cells induce platelet clearance in the liver via platelet desialylation in immunethrombocytopenia.
Sci Rep. 2016 Jun 20;6:27445.
32.Zheng L, Wang C, Luo T, Lu B, Ma H, Zhou Z, Zhu D, Chi G, Ge P, Luo Y.
JNK Activation Contributes to Oxidative Stress-Induced Parthanatos in Glioma Cells via Increase ofIntracellular ROS Production.
Mol Neurobiol.2016 May 16. [Epub ahead of print]
33.Yi JM, Huan XJ, Song SS, Zhou H, Wang YQ, Miao ZH.
Triptolide Induces Cell Killing in Multidrug-Resistant Tumor Cells via CDK7/RPB1 Rather than XPB orp44.
Mol Cancer Ther. 2016 Jul;15(7):1495-503.
34.Zhang Q, Fan K, Wang P, Yu J, Liu R, Qi H, Sun H, Cao Y.
Carvacrol induces the apoptosis of pulmonary artery smooth muscle cells under hypoxia.
Eur J Pharmacol. 2016 Jan 5;770:134-46.
35.Chen G, Li SY, Malik HT, Ma YG, Xu H, Sun LK.
Organic two-photon nanoparticles modulate reactive oxygen species, intracellular calciumconcentration, and mitochondrial membrane potential during apoptosis of human gastric carcinoma SGC-7901 cells.
Biotechnol Lett. 2016 Aug;38(8):1269-76.
36.Qiao Z, He M, He MU, Li W, Wang X, Wang Y, Kuai Q, Li C, Ren S, Yu Q.
Synergistic antitumor activity of gemcitabine combined with triptolide in pancreatic cancer cells.
Oncol Lett. 2016 May;11(5):3527-3533.
37.Zhou BR, Zhang LC, Permatasari F, Liu J, Xu Y, Luo D.
ALA-PDT elicits oxidative damage and apoptosis in UVB-induced premature senescence of human skinfibroblasts.
Photodiagnosis Photodyn Ther. 2016 Jun;14:47-56.
38.Zheng L, Wang C, Luo T, Lu B, Ma H, Zhou Z, Zhu D, Chi G, Ge P, Luo Y.
JNK Activation Contributes to Oxidative Stress-Induced Parthanatos in Glioma Cells via Increase of Intracellular ROS Production.
Mol Neurobiol. 2017 Jul;54(5):3492-3505.
39.Li SY, Qi Y, Hu SH, Piao FY, Guan H, Wang ZM, Chen RL, Liu S.
Mesenchymal stem cells-conditioned medium protects PC12 cells against 2,5-hexanedione-induced apoptosis via inhibiting mitochondria-dependent caspase 3 pathway.
Toxicol Ind Health. 2017 Feb;33(2):107-118.
40.Lu XT, Ma Y, Zhang HJ, Jin MQ, Tang JH.
Enantioselective apoptosis and oxidative damage induced by individual isomers of profenofos in primary hippocampal neurons.
J Environ Sci Health B. 2017 Jul 3;52(7):505-515.
41.Yan W, Li D, Chen T, Tian G, Zhou P, Ju X.
Umbilical Cord MSCs Reverse D-Galactose-Induced Hepatic Mitochondrial Dysfunction viaActivation of Nrf2/HO-1 Pathway.
Biol Pharm Bull. 2017 Aug 1;40(8):1174-1182.
42.Liu Y, Zhang X, Zhou M, Nan X, Chen X, Zhang X.
Mitochondrial-Targeting Lonidamine-Doxorubicin Nanoparticles for Synergistic Chemotherapy to Conquer Drug Resistance.
ACS Appl Mater Interfaces. 2017 Dec 20;9(50):43498-43507.