| | | | |
| --- | --- | --- | --- |
| 产品编号 | 产品名称 | 产品包装 | 产品价格 |
| C1157 | Caspase 9 活性检测试剂盒 | 20次 | 536.00元 |
Caspase 9 活性检测试剂盒(Caspase 9 Activity Assay Kit)是采用分光光度法检测细胞或组织裂解液中caspase 9酶活性或纯化的caspase 9酶活性的试剂盒。
Caspase(Cysteine-requiring Aspartate Protease)是一个在细胞凋亡过程中起重要作用的蛋白酶家族。Caspase 9也称
ICE-LAP6或Mch6,有时被写作caspase-9或caspase 9,是细胞凋亡信号转导过程中比较上游的一个caspase。线粒体释放细胞色素c以后,caspase 9可以和细胞色素c以及Apaf1形成复合物,同时被激活。激活的caspase 9可以激活细胞凋亡的最关键酶
caspase 3,从而促进后续的细胞凋亡信号。Caspase 9的激活可以通过磷酸化进行调控。
本Caspase 9活性检测试剂盒是基于caspase 9可以催化底物Ac-LEHD-pNA(acetyl-Leu-Glu-His-Asp p-nitroanilide)产生黄色的pNA(p-nitroaniline),从而可以通过测定吸光度来检测caspase 9的活性。pNA在405nm附近有强吸收。
试剂盒中提供了caspase 9催化产生的黄色产物pNA,可以作为定量caspase 9酶活性的标准品。
本试剂盒用酶标仪检测或容量不超过100μl的分光光度检测杯检测时,除标准曲线外可以检测20个样品。
包装清单:
| | | |
| --- | --- | --- |
| 产品编号 | 产品名称 | 包装 |
| C1157-1 | 裂解液 | 8ml |
| C1157-2 | 检测缓冲液 | 8ml |
| C1157-3 | Ac-LEHD-pNA(2mM) | 200μl |
| C1157-4 | pNA(10mM) | 200μl |
| — | 说明书 | 1份 |
保存条件:
-20℃保存,Ac-LEHD-pNA和pNA需避光保存。
注意事项:
须自备可以测定A405或A400的酶标仪或容量不超过100μl的分光光度检测杯及相应分光光度计。优先考虑测定A405,如有困难可以测定A400。
Ac-LEHD-pNA需尽量避免反复冻融,请注意适当分装。
测定蛋白浓度需Bradford蛋白浓度测定试剂盒(P0006),可向碧云天订购。建议样品用水稀释1倍后再用Bradford法测定蛋白浓度,以降低DTT对蛋白浓度测定的干扰。
pNA(中文名为4-硝基苯胺)对人体有毒,操作时请特别小心,并注意有效防护以避免直接接触人体或吸入体内。pNA(10mM)在4℃、冰浴等较低温度情况下会凝固而粘在离心管管底、管壁或管盖内,可以20-25℃水浴温育片刻至全部融解后使用。
本试剂盒的裂解液可以和碧云天生产的其它caspase活性检测试剂盒的裂解液通用,即本试剂盒裂解液制备的蛋白样品可以用于碧云天其它caspase活性检测试剂盒的检测。
本产品仅限于专业人员的科学研究用,不得用于临床诊断或治疗,不得用于食品或药品,不得存放于普通住宅内。
为了您的安全和健康,请穿实验服并戴一次性手套操作。
使用说明:
1.准备工作:
a.裂解液溶解后混匀并置于冰浴上备用。
b.检测缓冲液溶解后混匀并置于冰浴上备用。
2.测定pNA标准曲线:
a.标准品稀释液的配制:按照每0.9ml检测缓冲液加入0.1ml裂解液的比例配制适量的标准品稀释液。
b.把试剂盒提供的pNA (10mM)用标准品稀释液稀释为0、10、20、50、100和200μM,作为标准品。
c.每个浓度取100μl用酶标仪进行检测,或取适当量用容量不超过100μl的分光光度检测杯进行检测,测定A405。
d.每一个标准品的A405减去不含pNA的空白对照的A405计算出实际的因pNA而导致的吸光度,并制作出pNA浓度相对于A405的标准曲线。pNA标准曲线可以参考图1,在0-200μM范围内存在良好的线性关系。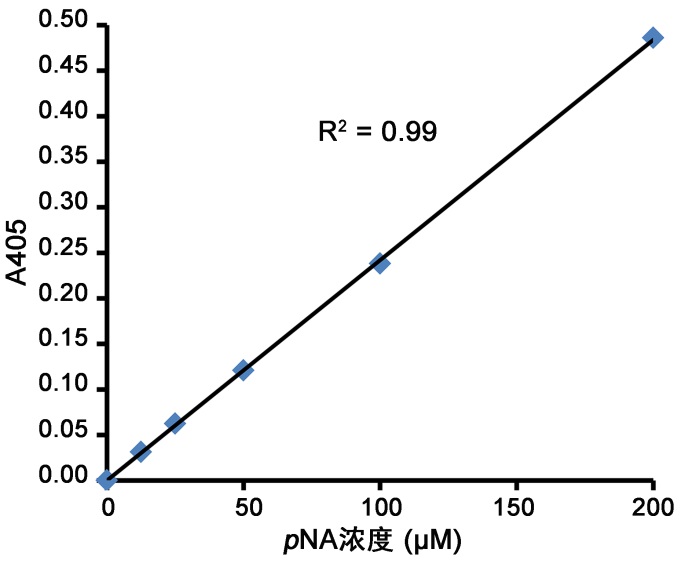 图1.pNA标准曲线。实测数据可能因实验条件、检测仪器等的不同而存在差异,图中数据仅供参考。
3.样品的收集:
a.对于悬浮细胞:把没有诱导凋亡的对照样品和诱导凋亡的样品,600g 4℃离心5分钟收集细胞,小心吸除上清,同时确保尽量没有细胞被吸除,PBS洗涤一次。同前吸尽上清后,按照每200万细胞加入100微升裂解液的比例加入裂解液,重悬沉淀,冰浴裂解15分钟。下转步骤3d。
b.对于贴壁细胞:吸取细胞培养液,备用。用胰酶消化贴壁细胞,并收集至备用的细胞培养液中。600g 4℃离心5分钟收集细胞,小心吸除上清,同时确保尽量没有细胞被吸除,PBS洗涤一次。同前吸尽上清后,按照每200万细胞加入100微升裂解液的比例加入裂解液,重悬沉淀,冰浴裂解15分钟。下转步骤3d。
c.对于组织样品:按照每3-10mg组织加入100微升裂解液的比例加入裂解液,在冰浴上用玻璃匀浆器匀浆。然后把匀浆液转移到1.5ml离心管中,冰浴再裂解5分钟。
d.4℃ 16,000-20,000g离心10-15分钟。
e.把上清转移到冰浴预冷的离心管中。
f.立即测定caspase 9的酶活性或-70℃保存样品。同时可以取少量样品用Bradford法测定蛋白浓度,尽量使蛋白浓度达到1-3mg/ml,相当于每10微升待测样品中至少含有10-30μg蛋白。如果细胞较小,可以适当增加细胞的用量。
4.Caspase 9酶活性的检测:
a.取出适量的Ac-LEHD-pNA(2mM),置于冰浴上备用。
b.如下设置反应体系:
空白对照
样品
检测缓冲液
40

μl

40

μl

待测样品
0

μl

50

μl

裂解液
50

μl

0

μl

Ac-LEHD-pNA(2mM)
10

μl

10

μl

总体积
100

μl

100

μl
注意:在设置反应体系时先加检测缓冲液,再加待测样品,适当混匀,注意避免在混匀时产生气泡。随后再加入10μl Ac-LEHD-pNA(2mM)。
c.加入Ac-LEHD-pNA(2mM)后混匀,注意避免在混匀时产生气泡。37℃孵育60-120分钟。发现颜色变化比较明显时即可测定A405。如果颜色变化不明显,可以适当延长孵育时间,甚至可以孵育过夜。
d.样品的A405扣除空白对照的A405,即为样品中caspase 9催化产生的pNA产生的吸光度。通过同步骤1中获得的标准曲线的对比就可以计算出样品中催化产生了多少量的pNA。
e.参考Chemicon公司的caspase 9酶活力单位的定义:One unit is the amount of enzyme that will cleave 1.0nmol of the colorimetric substrate Ac-LEHD-pNA per hour at 37℃ under saturated substrate concentrations。即一个酶活力单位定义为当底物饱和时,在37℃一个小时内可以剪切1nmol Ac-LEHD-pNA产生1nmol pNA的caspase 9的酶量。这样就可以计算出样品中含有多少个酶活力单位的caspase 9。说明:在本试剂盒的检测体系中,底物的起始浓度为0.2mM,此时底物是饱和的,对于许多样品而言在37℃孵育2个小时以内底物都是饱和的;对于样品中caspase 9酶活力特别高的情况,须用裂解液适当稀释样品后再进行测定。
f.用Bradford法检测待测样品中的蛋白浓度(由于裂解液中含有较高浓度的DTT,不适合采用BCA法进行蛋白浓度测定)。这样就可以计算出一个样品单位重量蛋白中所含的caspase 9的酶活力单位。
常见问题:
1.测定出的A405过低:
A.样品中蛋白含量太低,裂解样品时需设法使样品中的蛋白浓度至少达到1-3mg/ml。
B.样品中激活的caspase水平很低。首先确认凋亡现象是否明显,如果凋亡比较明显并且确认该caspase是可以被激活的,可以适当调节诱导细胞凋亡的时间,希望能找到一个caspase激活比较强的时间点,这样就可以检测出该caspase的激活。可以作一时间曲线,例如诱导凋亡0、2、4、8、16和24小时,或0、1、2、4、8和16小时,或0、1、2、4、6和8小时等。具体的诱导凋亡时间需根据具体情况而定。
2.测定出的A405过高或者样品量不足:
测定出来的A405读数过高时,可以参考下表的反应体系适当减少样品的用量;样品量不足时也可以参考下表减少样品的用量。
空白对照
样品
检测缓冲液
40

μl

40

μl

待测样品
0

μl

x

μl

裂解液
50

μl

(50-x)

μl

Ac-LEHD-pNA(2mM)
10

μl

10

μl

总体积
100

μl

100

μl
说明:其中x不超过50,其余检测方法同上面的使用说明所述。

相关产品:
使用本产品的文献:
1. Liu C, Yu K, Shi X, Wang J, Lam P, Wu R, Zhou, B.
Induction of oxidative stress and apoptosis by PFOS and PFOA in primary cultured hepatocytes of freshwater tilapia (Oreochromis niloticus).
Aquatic Toxicology.2007 May 1;82(2):135-43.
2. Qian YF,Yao WB, Wang H, Gao XD.
The Mechanism of Kaixin San Inhibiting Apoptosis in Hydrogen Peroxide2induced PC12 Cells.
Chin J Nat Med. 2007 Sep;5(5):379-84.
3. Qian YF, Wang H, Yao WB, Gao XD.
Aqueous extract of the Chinese medicine, Danggui-Shaoyao-San, inhibits apoptosis in hydrogen peroxide-induced PC12 cells by preventing cytochrome c release and inactivating of caspase cascade.
Cell Biol Int. 2008 Feb;32(2):304-11.
4. Yang J, Wang J, Zhu S, Chen X, Wu H, Yang D, Zhang J.
C-reactive protein augments hypoxia-induced apoptosis through mitochondrion-dependent pathway in cardiac myocytes.
Mol Cell Biochem. 2008 Mar;310(1-2):215-26.
5. Wang Z, Tang X, Li Y, Leu C, Guo L, Zheng X, Zhu D.
20-Hydroxyeicosatetraenoic acid inhibits the apoptotic responses in pulmonary artery smooth muscle cells.
Eur J Pharmacol. 2008 Jun 24;588(1):9-17.
6. Cai L, Wang H, Li Q, Qian Y, Yao W.
Salidroside inhibits H2O2-induced apoptosis in PC12 cells by preventing cytochrome c release and inactivating of caspase cascade.
Acta Biochim Biophys Sin (Shanghai). 2008 Sep;40(9):796-802.
7. Zhou YJ, Zhang SP, Liu CW, Cai YQ.
The protection of selenium on ROS mediated-apoptosis by mitochondria dysfunction in cadmium-induced LLC-PK(1) cells.
Toxicol In Vitro. 2009 Mar;23(2):288-94.
8. Yin ST, Tang ML, Deng HM, Xing TR, Chen JT, Wang HL, Ruan DY.
Epigallocatechin-3-gallate induced primary cultures of rat hippocampal neurons death linked to calcium overload and oxidative stress.
Naunyn Schmiedebergs Arch Pharmacol. 2009 Jun;379(6):551-64.
9. Shi DH, Wu JH, Ge HM, Tan RX.
Protective effect of hopeahainol A, a novel acetylcholinesterase inhibitor, on hydrogen peroxide-induced injury in PC12 cells.
Environmental Toxicology and Pharmacology. 2009 Jul;28(1):30-36.
10.Liu H, Dong A, Gao C, Tan C, Xie Z, Zu X, Qu L, Jiang Y.
New synthetic flavone derivatives induce apoptosis of hepatocarcinoma cells.
Bioorg Med Chem. 2010;18(17):6322-8.
11.Qian J, Jiang F, Wang B, Yu Y, Zhang X, Yin Z, Liu C.
Ophiopogonin D prevents H2O2-induced injury in primary human umbilical vein endothelial cells.
J Ethnopharmacol. 2010;128(2):438-45.
12.Wang GF, Guo YW, Feng B, Li L, Huang CG, Jiao BH.
Tanghinigenin from seeds of Cerbera manghas L. induces apoptosis in human promyelocytic leukemia HL-60 cells.
Environmental Toxicology and Pharmacology. 2010 Mar;30(2010):31-6.
13.Zhu JR, Tao YF, Lou S, Wu ZM.
Protective effects of ginsenoside Rb(3) on oxygen and glucose deprivation-induced ischemic injury in PC12 cells.
Acta Pharmacol Sin. 2010;31(3):273-80.
14.Mu Y, Xiao X, Zhang J, Ao J, Chen X.
Molecular cloning and functional characterization of caspase 9 in large yellow croaker (Pseudosciaena crocea).
Dev Comp Immunol. 2010;34(3):300-7.
15.Ma H, Quan F, Chen D, Zhang B, Zhang Y.
Alterations in mitochondrial function and spermatozoal motility in goat spermatozoa following incubation with a human lysozyme plasmid.
Anim Reprod Sci. 2010;121(1-2):106-14.
16.Li WZ, Li WP, Yao YY, Zhang W, Yin YY, Wu GC, Gong HL.
Glucocorticoids increase impairments in learning and memory due to elevated amyloid precursor protein expression and neuronal apoptosis in 12-month old mice.
Eur J Pharmacol. 2010;628(1-3):108-15.
17.Wang MY, Zhao FM, Peng HY, Lou CH, Li Y, Ding X, Yu XY, Yang GM, Xu DQ, Jiang LH, Zhang X, Ye LH, Cai BC.
Investigation on the morphological protective effect of 5-hydroxymethylfurfural extracted fromwine-processed Fructus corni on human L02 hepatocytes.
J Ethnopharmacol. 2010 Jul 20;130(2):424-8.
18.Zhao CQ, Zhang YH, Jiang SD, Jiang LS, Dai LY.
Both endoplasmic reticulum and mitochondria are involved in disc cell apoptosis andintervertebral disc degeneration in rats.
Age (Dordr). 2010 Jun;32(2):161-77.
19.Xu HL, Yu XF, Qu SC, Zhang R, Qu XR, Chen YP, Ma XY, Sui DY.
Anti-proliferative effect of Juglone from Juglans mandshurica Maxim on human leukemia cell HL-60 by inducing apoptosis through the mitochondria-dependent pathway.
Eur J Pharmacol. 2010 Oct 25;645(1-3):14-22.
20.Li W, Xie L, Chen Z, Zhu Y, Sun Y, Miao Y, Xu Z, Han X.
Cantharidin, a potent and selective PP2A inhibitor, induces an oxidative stress-independentgrowth inhibition of pancreatic cancer cells through G2/M cell-cyclearrest and apoptosis.
Cancer Sci. 2010 May;101(5):1226-33.
21.Zhang YH, Zhao CQ, Jiang LS, Dai LY.
Cyclic stretch-induced apoptosis in rat annulus fibrosus cells is mediated in part by endoplasmicreticulum stress through nitric oxide production.
Eur Spine J. 2011 Aug;20(8):1233-43.
22.Zhang X, Liu X, Shang H, Xu Y, Qian M.
Monocyte chemoattractant protein-1 induces endothelial cell apoptosis in vitro through a p53-dependent mitochondrial pathway.
Acta Biochim Biophys Sin (Shanghai). 2011 Oct;43(10):787-95.
23.Li WZ, Li WP, Zhang W, Yin YY, Sun XX, Zhou SS, Xu XQ, Tao CR.
Protective effect of extract of Astragalus on learning and memory impairments and neurons'apoptosis induced by glucocorticoids in 12-month-old male mice.
Anat Rec (Hoboken). 2011 Jun;294(6):1003-14.
24.Jiang CP, Ding H, Shi DH, Wang YR, Li EG, Wu JH.
Pro-apoptotic effects of tectorigenin on human hepatocellular carcinoma HepG2 cells.
World J Gastroenterol. 2012 Apr 21;18(15):1753-64.
25.Wang J, Wang Q, Li J, Shen Q, Wang F, Wang L.
Cadmium induces hydrogen peroxide production and initiates hydrogen peroxide-dependentapoptosis in the gill of freshwater crab, Sinopotamon henanense.
Comp Biochem Physiol C Toxicol Pharmacol. 2012 Jun 9;156(3-4):195-201.
26.Guo LD, Chen XJ, Hu YH, Yu ZJ, Wang D, Liu JZ.
Curcumin Inhibits Proliferation and Induces Apoptosis of Human Colorectal Cancer Cells byActivating the Mitochondria Apoptotic Pathway.
Phytother Res. 2012 Nov;156(3-4):195-201.
27.Zhao D, Lin F, Wu X, Zhao Q, Zhao B, Lin P, Zhang Y, Yu X.
Pseudolaric acid B induces apoptosis via proteasome-mediated Bcl-2 degradation in hormone-refractory prostate cancer DU145 cells.
Toxicol In Vitro. 2012 Jun;26(4):595-602.
28.Chen T, Zhang L, Yue JQ, Lv ZQ, Xia W, Wan YJ, Li YY, Xu SQ.
Prenatal PFOS exposure induces oxidative stress and apoptosis in the lung of rat off-spring.
Reprod Toxicol. 2012 Jul;33(4):538-45.
29.Ma EL, Zhao DM, Li YC, Cao H, Zhao QY, Li JC, Sun LX.
Activation of ATM-Chk2 by 16-dehydropregnenolone induces G1 phase arrest and apoptosis inHeLa cells.
J Asian Nat Prod Res. 2012;14(9):817-25.
30.Feng Y, Zhang C, Luo Q, Wei X, Jiang B, Zhu H, Zhang L, Jiang L, Liu M, Xiao X
A novel WD-repeat protein, WDR26, inhibits apoptosis of cardiomyocytes induced by oxidativestress.
Free Radic Res. 2012 Jun;46(6):777-84.
31.Guo C, Zeng X, Song J, Zhang M, Wang H, Xu X, Du F, Chen B.
A Soluble Receptor for Advanced Glycation End-Products Inhibits Hypoxia/Reoxygenation-Induced Apoptosis inRat Cardiomyocytes via the Mitochondrial Pathway.
Int J Mol Sci. 2012;13(9):11923-40.
32.Zha YY, Yang B, Tang ML, Guo QC, Chen JT, Wen LP, Wang M.
Concentration-dependent effects of fullerenol on cultured hippocampal neuron viability.
Int J Nanomedicine. 2012;7:3099-109.
33.Gao Z, Kang X, Hu J, Ju Y, Xu C.
Induction of apoptosis with mitochondrial membrane depolarization by a glycyrrhetinic acidderivative in human leukemia K562 cells.
Cytotechnology.2012 Aug;64(4):421-8.
34.Zhao WH, Gou BD, Zhang TL, Wang K.
Lanthanum chloride bidirectionally influences calcification in bovine vascular smooth muscle cells.
J Cell Biochem. 2012 May;113(5):1776-86.
35.Zhang L, Ji Q, Ni ZH, Sun J.
Prohibitin induces apoptosis in BGC823 gastric cancer cells through the mitochondrial pathway.
Asian Pac J Cancer Prev. 2012;13(8):3803-7.
36.Ji Y, Ji C, Yue L, Xu H.
Saponins isolated from Asparagus induce apoptosis in human hepatoma cell line HepG2 through a mitochondrial-mediated pathway.
Curr Oncol. 2012 Jul;19(Suppl 2):eS1-9.
37.Zhang H, Shao D, Wu Y, Cai C, Hu C, Shou X, Dai B, Ye B, Wang M, Jia X.
Apoptotic responses of Carassius auratus lymphocytes to nodularin exposure in vitro.
Fish Shellfish Immunol. 2012 Dec;33(6):1229-37.
38.Chen XM, Liu J, Wang T, Shang J.
Colchicine-induced apoptosis in human normal liver L-02 cells by mitochondrial mediated pathways.
Toxicol In Vitro.2012 Aug;26(5):649-55.
39.Rong C, Chen FH, Jiang S, Hu W, Wu FR, Chen TY, Yuan FL.
Inhibition of acid-sensing ion channels by amiloride protects rat articular chondrocytes from acid-inducedapoptosis via a mitochondrial-mediated pathway.
Cell Biol Int. 2012 Jul;36(7):635-41.
40.Mao Z, Xia W, Wang J, Chen T, Zeng Q, Xu B, Li W, Chen X, Xu S.
Perfluorooctane sulfonate induces apoptosis in lung cancer A549 cells through reactive oxygen species-mediated mitochondrion-dependent pathway.
J Appl Toxicol. 2013 Nov; 33(11): 1268-76.
41.Zhang JF, Zhang JG, Kuai XL, Zhang H, Jiang W, Ding WF, Li ZL, Zhu HJ, Mao ZB.
Reactivation of the homeotic tumor suppressor gene CDX2 by 5-aza-2'-deoxycytidine-induced demethylation inhibits cell proliferation and induces caspase-independent apoptosis in gastric cancer cells.
Exp Ther Med. 2013 Mar;5(3):735-741.
42.Qiu L, Chen Y, Gao M, Zheng C, Zhao Q.
Phagocytic uptake and ROS-mediated cytotoxicity in human hepatic cell line of amphiphilic polyphosphazenenanoparticles.
J Biomed Mater Res A. 2013 Jan;101(1):285-97.
43.Ma J, Zhang L, Zhang J, Liu M, Wei L, Shen T, Ma C, Wang Y, Chen Y, Zhu D.
15-lipoxygenase-1/15-hydroxyeicosatetraenoic acid promotes hepatocellular cancer cells growth through protein kinase B and heat shock protein 90 complex activation.
Int J Biochem Cell Biol. 2013 Jun;45(6):1031-41.
44.Xu L, Qi Y, Lv L, Xu Y, Zheng L, Yin L, Liu K, Han X, Zhao Y, Peng J.
In vitro anti-proliferative effects of Zuojinwan on eight kinds of human cancer cell lines.
Cytotechnology. 2013 Feb; 66(1): 37-50.
45.Shu G, Yang T, Wang C, Su H, Xiang M.
Gastrodin stimulates anticancer immune response and represses transplanted H22 hepatic ascitic tumor cell growth: Involvement of NF-κB signaling activation in CD4+ T cells.
Toxicol Appl Pharmacol. 2013 Jun 15;269(3):270-9.
46.Qiu Q, Xiong W, Yang C, Gagnon C, Hardy P.
Lymphocyte-derived microparticles induce bronchial epithelial cells' pro-inflammatory cytokine production andapoptosis.
Mol Immunol. 2013 Oct;55(3-4):220-30.
47.Song S, Wang S, Ma J, Yao L, Xing H, Zhang L, Liao L, Zhu D.
Biliverdin reductase/bilirubin mediates the anti-apoptotic effect of hypoxia in pulmonary arterial smooth musclecells through ERK1/2 pathway.
Exp Cell Res.2013 May 27;319(13): 1973-87.
48.Zhang J, Wu GQ, Zhang Y, Feng ZY, Zhu SM.
Propofol induces apoptosis of hepatocellular carcinoma cells by upregulation of microRNA- 199a expression.
Cell Biol Int. 2013 Mar;37(3):227-32.
49.Fang XY, Chen W, Fan JT, Song R, Wang L, Gu YH, Zeng GZ, Shen Y, Wu XF, Tan NH, Xu Q, Sun Y.
Plant cyclopeptide RA-V kills human breast cancer cells by inducing mitochondria-mediated apoptosis throughblocking PDK1-AKT interaction.
Toxicol Appl Pharmacol. 2013 Feb 15;267(1):95-103.
50.Wang X, Bai H, Zhang X, Liu J, Cao P, Liao N, Zhang W, Wang Z, Hai C.
Inhibitory effect of oleanolic acid on hepatocellular carcinoma via ERK-p53-mediated cell cycle arrest andmitochondrial-dependent apoptosis.
Carcinogenesis. 2013 Jun;34(6):1323-30.
51.Jiang ZQ, Yan XJ, Bi L, Chen JP, Zhou Q, Chen WP.
Mechanism for hepato-protective action of Liangxue Huayu Recipe (LHR): Blockade of mitochondrial cytochrome c release and caspase activation.
J Ethnopharmacol. 2013 May 24.148(3); 851-60.
52.Yan X, Tian J, Wu H, Liu Y, Ren J, Zheng S, Zhang C, Yang C, Li Y, Wang S.
Ginsenoside rb1 protects neonatal rat cardiomyocytes from hypoxia/ischemia induced apoptosis and inhibits activation of the mitochondrial apoptotic pathway.
Evid Based Complement Alternat Med. 2014;2014:149195.
53.Liu Z, Dong X, Song L, Zhang H, Liu L, Zhu D, Song C, Leng X.
Carboxylation of multiwalled carbon nanotube enhanced its biocompatibility with L02 cells through decreasedactivation of mitochondrial apoptotic pathway.
J Biomed Mater Res A. 2014 Mar;102(3):665-73.
54.Wang L, Li MD, Cao PP, Zhang CF, Huang F, Xu XH, Liu BL, Zhang M.
Astin B, a cyclic pentapeptide from Aster tataricus, induces apoptosis and autophagy in human hepatic L-02 cells.
Chem Biol Interact. 2014 Sep 16;223C:1-9.
55.Xia W, Jiang Y, Li Y, Wan Y, Liu J, Ma Y, Mao Z, Chang H, Li G, Xu B, Chen X, Xu S.
Early-life exposure to bisphenol a induces liver injury in rats involvement of mitochondria-mediated apoptosis.
PLoS One. 2014 Feb 28;9(2):e90443.
56.Luo Y, Wei Z, Chou G, Wang Z, Xia Y, Dai Y.
Norisoboldine induces apoptosis of fibroblast-like synoviocytes from adjuvant-induced arthritis rats.
Int Immunopharmacol. 2014 May;20(1):110-6.
57.Jiang Z, Chen W, Yan X, Bi L, Guo S, Zhan Z.
Paeoniflorin protects cells from GalN/TNF-α-induced apoptosis via ER stress and mitochondria-dependent pathways in human L02 hepatocytes.
Acta Biochim Biophys Sin (Shanghai). 2014 May;46(5):357-67.
58.Liu J, Peng Y, Feng Z, Shi W, Qu L, Li Y, Liu J, Long J.
Reloading functionally ameliorates disuse-induced muscle atrophy by reversing mitochondrial dysfunction, and similar benefits are gained by administering a
combination of mitochondrial nutrients.
Free Radic Biol Med. 2014 Apr;69:116-28.
59.Huang G, Mao J, Ji Z, Ailati A.
Stachyose-induced apoptosis of Caco-2 cells via the caspase-dependent mitochondrial pathway.
Food Funct. 2015 Mar;6(3):765-71.
60.Zhang R, Li L, Yuan L, Zhao M.
Hypoxic preconditioning protects cardiomyocytes against hypoxia/reoxygenation-induced cell apoptosis via sphingosine kinase 2 and FAK/AKT pathway.
Exp Mol Pathol. 2015 Nov 24;100(1):51-58.
61.Zhao WJ, Deng BY, Wang XM, Miao Y, Wang JN.
XIAP associated factor 1 (XAF1) represses expression of X-linked inhibitor of apoptosis protein (XIAP) and regulates invasion, cell cycle, apoptosis, and cisplatin sensitivity of ovarian carcinoma cells.
Asian Pac J Cancer Prev. 2015;16(6):2453-8.
62.Zhang B, Xu Z, Zhang Y, Shao X, Xu X, Cheng J, Li Z.
Fipronil induces apoptosis through caspase-dependent mitochondrial pathways in Drosophila S2 cells.
Pestic Biochem Physiol. 2015 Mar;119:81-9.
63.Xu D, Li L, Liu L, Dong H, Deng Q, Yang X, Song E, Song Y.
Polychlorinated biphenyl quinone induces mitochondrial-mediated and caspase-dependent apoptosis in HepG2 cells.
Environ Toxicol. 2015 Sep;30(9):1063-72.
64.Yang SS, Zheng MX, Xu HC, Cui XZ, Zhang Y, Zhao WL, Bai R.
The effect of mitochondrial ATP-sensitive potassium channels on apoptosis of chick embryo cecal cells by Eimeria tenella.
Res Vet Sci. 2015 Apr;99:188-95.
65.Jiang Y, Fu R, Zhao J, Wu D, Qiao G, Li R, Zhang J.
Effects of ELL-associated factor 2 on ultraviolet radiation-induced cataract formation in mice.
Mol Med Rep. 2015 Nov;12(5):6605-11.
66.Xu ML, Hu J, Guo BP, Niu YR, Xiao C, Xu YX.
Exploration of intrinsic and extrinsic apoptotic pathways in zearalenone-treated rat sertoli cells.
Environ Toxicol.2016 Dec;31(12):1731-9.
67.Peng X, Zhang YY, Wang J, Ji Q.
Ethylacetate extract from Tetrastigma hemsleyanum induces apoptosis via the mitochondrial caspase-dependent intrinsic pathway in HepG2 cells.
Tumour Biol. 2016 Jan;37(1):865-76.
68.Li M, Song M, Ren LM, Xiu CY, Liu JY, Zhu YZ, Li YF.
AlCl3 induces lymphocyte apoptosis in rats through the mitochondria-caspase dependent pathway.
Environ Toxicol. 2016 Apr;31(4):385-94.
69.Zeng J, Chen QW, Yu ZY, Zhang JR, Chen DL, Song C, Luo J, Zhang C, Wang SL, Chen JP.
Regulation of intrinsic apoptosis in cycloheximide-treated macrophages by the Sichuan human strain of Chinese Leishmania isolates.
Acta Trop. 2016 Jan;153:101-10.
70.Wang H, Yu Y, Li J, Wu H, Sun J, Zhang Z, Geng L, Yu X, Liu Z.
Cadmium stimulates mouse skin fibroblast apoptosis by affecting intracellular homeostasis.
Drug Chem Toxicol. 2017 Jan;40(1):74-84.
71.Li W, Jiang B, Cao X, Xie Y, Huang T.
Protective effect of lycopene on fluoride-induced ameloblasts apoptosis and dental fluorosis throughoxidative stress-mediated Caspase pathways.
Chem Biol Interact. 2017 Jan 5;261:27-34.