| | | | |
| --- | --- | --- | --- |
| 产品编号 | 产品名称 | 产品包装 | 产品价格 |
| C0009 | MTT细胞增殖及细胞毒性检测试剂盒 | 500次 | 253.00元 |
MTT细胞增殖及细胞毒性检测试剂盒(MTT Cell Proliferation and Cytotoxicity Assay Kit)是一种非常经典的细胞增殖和细胞毒性检测试剂盒,被广泛应用于细胞增殖和细胞毒性的检测。
MTT可以被线粒体内的一些脱氢酶还原生成结晶状的深紫色产物formazan(图1A)。在特定溶剂存在的情况下,可以被完全溶解(图1B)。然后通过酶标仪可以测定570nm波长附 近的吸光度(图2)。细胞增殖越多越快,则吸光度越高;细胞毒性越大,则吸光度越低。
图1. MTT细胞增殖及细胞毒性检测试剂盒实测效果图。A. HeLa细胞加入使用本试剂盒配制的MTT溶液,在细胞培养箱内孵育4小时,显微镜下可见大量结晶状的深紫色产物formazan生成。B. 不同数量HeLa细胞在MTT溶液(MTT solution)加入后4小时的效果图(上图)及深紫色产物formazan生成后加入Formazan溶解液(Formazan solvent),充分溶解后的效果图(下图)。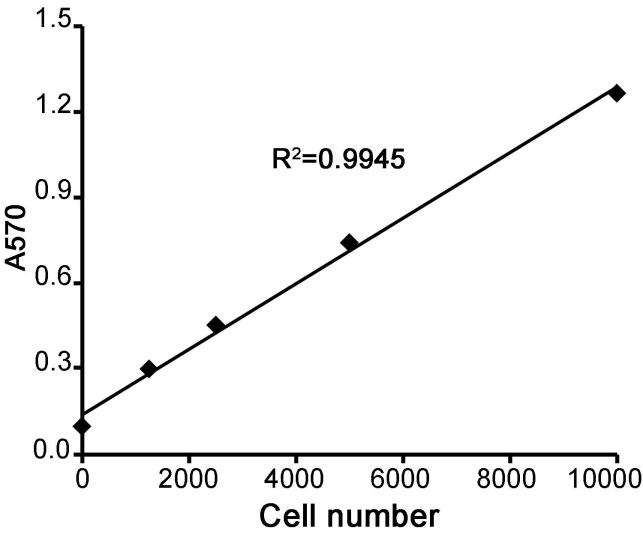 图2. 本试剂盒检测不同数量HeLa细胞的效果图。不同的检测条件下,实际读数会因标准品的配制、检测仪器等的不同而存在差异,图中数据仅供参考。
本试剂盒采用了独特的Formazan 溶解液配方,无需去除原有的培养液,可以直接加入Formazan溶解液溶解formazan。从而避免了由于去除培养液时formazan被部分去除而引起的误差。
本试剂盒本底低,灵敏度高,线性范围宽,使用方便。
碧云天各种细胞增殖和细胞毒性检测试剂盒的比较和选择,请参考 http://www.beyotime.com/cell-proliferation.htm。
本试剂盒可以测定500个样品。
包装清单:
| | | |
| --- | --- | --- |
| 产品编号 | 产品名称 | 包装 |
| C0009-1 | MTT | 25mg |
| C0009-2 | MTT溶剂 | 5ml |
| C0009-3 | Formazan溶解液 | 55ml |
| — | 说明书 | 1份 |
保存条件:
4℃或-20℃保存,MTT需避光保存,一年有效;MTT配制成溶液后需-20℃避光保存;Formazan溶解液也可以室温保存。
注意事项:
由于使用96孔板进行检测,如果细胞培养时间较长,一定要注意蒸发的问 题。一方面,由于96孔板周围一圈最容易蒸发,可以采取弃用周围一圈的办法,改加PBS,水或培养液;另一方面 ,可以把96孔板置于靠近培养箱内水源的地方,以缓解蒸发。
MTT溶剂在低温情况下会凝固,使用前请室温放置或20-25℃水浴温育片刻 至全部融解后使用。
MTT配制成溶液后为黄色,需避光保存,长时间光照会导致失效。当颜色变为灰绿色时,请勿使用。MTT溶液在4℃、冰浴等较低温度情况下会凝固,可以20-25℃水浴温育片刻至全部融解 后使用。
Formazan溶解液结冻或产生沉淀时可以室温或37℃水浴孵育以促进溶解,并且必 须在全部溶解并混匀后使用。
加入Formazan溶解液后请适当轻轻混匀,但须注意避免产生泡沫。
本产品仅限于专业人员的科学研究用,不得用于临床诊断或治疗,不得用 于食品或药品,不得存放于普通住宅内。
为了您的安全和健康,请穿实验服并戴一次性手套操作。
使用说明:
1. MTT溶液的配制:用5ml MTT溶剂溶解25mg MTT,配制成5mg/ml的MTT溶液。配制后即可使用,或直接
-20℃避光保存,也可以根据需要适当分装后-20℃避光保存。
2. 通常细胞增殖实验每孔加入100微升2000个细胞,细胞毒性实验每孔加入100微升5000个细胞(具体每孔所
用的细胞的数目,需根据细胞的大小,细胞增殖速度的快慢等决定)。按照实验需要,进行培养并给予
0-10微升特定的药物刺激。
3. 每孔加入10微升MTT溶液,在细胞培养箱内继续孵育4小时。
4. 每孔加入100微升Formazan溶解液,适当混匀,在细胞培养箱内再继续孵育。直至在普通光学显微镜下观察发现
formazan全部溶解。通常37℃孵育3-4小时左右,紫色结晶会全部溶解。如果紫色结晶较小较少,溶解的时
间会短一些。如果紫色结晶较大较多,溶解的时间会长一些,此时为加速溶解可以适当振摇数次。
5. 在570nm测定吸光度(可参考图2)。如无570nm滤光片,可以使用560-600nm的滤光片。
使用本产品的文献:
1. Zhong Y, Zhang XH, Chen J, Chi Z, Sun B, Li Y, Austin B.
Overexpression, purification, characterization, and pathogenicity of Vibrio harveyi hemolysin VHH.
Infect Immun. 2006 Oct;74(10):6001-5.
2. Li QT, Zhu YZ, Chu JY, Dong K, He P, Feng CY, Hu BY, Zhang SM, Guo XK.
Granulocyte-macrophage colony-stimulating factor DNA prime-protein boost strategy to enhance efficacy of a recombinant pertussis DNA vaccine.
Acta Pharmacol Sin. 2006 Nov;27(11):1487-94.
3. Yang H, Chen J, Yang G, Zhang XH, Li Y.
Mutational analysis of the zinc metalloprotease EmpA of Vibrio anguillarum.
FEMS Microbiol Lett. 2007 Feb;267(1):56-63.
4. Yang H, Chen J, Yang G, Zhang XH, Li Y, Wang M.
Characterization and pathogenicity of the zinc metalloprotease empA of Vibrio
anguillarum expressed in Escherichia coli.
Curr Microbiol. 2007 Mar;54(3):244-8.
5. Li ZJ, Zhang K, Lou SQ, Zheng YF.
A Cellular Study on Cytotoxicity of Magnesium- calcium Alloy.
Chinese journal of bone and joint injury. 2007 Sep;22(9):740-742.
6. Xu J, Sun Y, Huang J, Chen C, Liu G, Jiang Y, Zhao Y, Jiang Z.
Photokilling cancer cells using highly cell-specific antibody-TiO(2) bioconjugates and electroporation.
Bioelectrochemistry. 2007 Nov;71(2):217-22.
7. Fan QY, Liu QH, Li CP, Wang J.
Experimental study on the effect of protoporphyrin disodium in vitro on anti-hbv.
Modern preventive medicine. 2007;34(19):3614-8.
8. Bai L, Pang WJ, Yang YJ, Yang GS.
Modulation of Sirt1 by resveratrol and nicotinamide alters proliferation and differentiation of pig preadipocytes.
Mol Cell Biochem. 2008 Jan;307(1-2):129-40.
9. Zhou XM, Xu GX, Zhao DM.
In vitro effect of prion peptide PrP 106-126 on mouse macrophages: Possible role of macrophages in transport and proliferation for prion protein.
Microb Pathog. 2008 Feb;44(2):129-34.
10.Zhan XD, Wang KX, Li CP.
Studies on Anti2HBV Effect in vitro of Snail Polysaccharide.
Chinese Journal of Experimental Traditional Medical Formulae. 2008 Mar;14(3):66-72.
11.Tian Y, Wang Q, Liu Q, Ma Y, Cao X, Zhang Y.
Role of RpoS in stress survival, synthesis of extracellular autoinducer 2, and virulence in Vibrio alginolyticus.
Arch Microbiol. 2008 Nov;190(5):585-94.
12.LI Y, GUAN L, YANG J, ZHOU X, YIN X, ZHAO D.
Influence of PrP 106―126 on expression of laminin and fibronectin in astrocyte.
Chinese Science Bulletin. 2008 Jul;53(14)2160-4.
13.Zhang Y, Jiang W, Fan Y, Wen J, Hao W, Qian M.
Engineering enhancement of the immune response to HBV DNA vaccine in mice by the use of LIGHT gene adjuvant.
J Virol Methods. 2008 Nov;153(2):142-8.
14.Zhang WW, Hu YH, Wang HL, Sun L.
Identification and characterization of a virulence-associated protease from a pathogenic Pseudomonas fluorescens strain.
Vet Microbiol. 2009 Oct 20;139(1-2):183-8.
15.Fan Y, Jiang WZ, Wen JJ, Hao WL, Du JN, Liu X, Qian M.
B7-DC-silenced dendritic cells induce stronger anti-HBV immunity in transgenic mice.
Arch Virol. 2009;154(11):1813-21.
16.Sun K, Jiao XD, Zhang M, Sun L.
DNA adenine methylase is involved in the pathogenesis of Edwardsiella tarda.
Vet Microbiol. 2010 Feb 24;141(1-2):149-54.
17.Wang YN, Wu W, Chen HC, Fang H.
Genistein protects against UVB-induced senescence-like characteristics in human dermal fibroblast by p66Shc down-regulation.
J Dermatol Sci. 2010;58(1):19-27.
18.Xu CQ, Liu BJ, Wu JF, Xu YC, Duan XH, Cao YX, Dong JC.
Icariin attenuates LPS-induced acute inflammatory responses: involvement of PI3K/Akt and NF-kappaB signaling pathway.
Eur J Pharmacol. 2010;642(1-3):146-53.
19.Chen R, Huang C, Ke Q, He C, Wang H, Mo X.
Preparation and characterization of coaxial electrospun thermoplastic polyurethane/collagen compound nanofibers for tissue engineering applications.
Colloids Surf B Biointerfaces. 2010;79(2):315-25.
20.Zheng WJ, Hua YH, Zhang M, Sun L.
Analysis of the expression and antioxidative property of a peroxiredoxin 6 from Scophthalmus maximus.
Fish &Shellfish Immunology. 2010 Aug;29(2):305-11.
21.Hu YH, Zheng WJ, Sun L.
Identification and molecular analysis of a ferritin subunit from red drum (Sciaenops ocellatus).
Fish Shellfish Immunol. 2010;28(4):678-86.
22.Cheng S, Zhang WW, Zhang M, Sun L.
Evaluation of the vaccine potential of a cytotoxic protease and a protective immunogen from a pathogenic Vibrio harveyi strain.
Vaccine. 2010;28(4):1041-7.
23.Su Y, Li X, Liu Y, Su Q, Qiang ML, Mo X.
Encapsulation and Controlled Release of Heparin from Electrospun Poly(L-Lactide-co-epsilon-Caprolactone) Nanofibers.
J Biomater Sci Polym Ed. 2011;22(1-3):165-77.
24.Qian YF, Zhang KH, Chen F, Ke QF, Mo XM.
Cross-linking of gelatin and chitosan complex nanofibers for tissue-engineering scaffolds.
J Biomater Sci Polym Ed. 2011;22(8):1099-113.
25.Li X, Lin L, Kanjwal MA, Chronakis IS, Liu S, Chen Y.
Preparing photochromic nanofibers and animal cells using a photochromic compound of 1',3',3'-trimethyl-6-nitrospiro (2H-1-benzopyran-2,2'-indoline).
Colloids Surf B Biointerfaces. 2012 Jan 1;89:67-72.
26.Ma X, Zhang S, Zhou J, Chen B, Shang Y, Gao T, Wang X, Xie H, Chen F.
Clone-derived human AF-amniotic fluid stem cells are capable of skeletal myogenic differentiationin vitro and in vivo.
J Tissue Eng Regen Med. 2012 Aug;6(8):598-613.
27.Wei D, Sun N, Nan G, Wang Y, Liu HQ, Peeters B, Chen ZN, Bian H.
Construction of recombinant Newcastle disease virus Italien strain for oncolytic virotherapy of tumors.
Hum Gene Ther. 2012 Jul;23(7):700-10.
28.Zha YY, Yang B, Tang ML, Guo QC, Chen JT, Wen LP, Wang M.
Concentration-dependent effects of fullerenol on cultured hippocampal neuron viability.
Int J Nanomedicine. 2012;7:3099-109.
29.Wei D, Sun N, Nan G, Wang Y, Liu HQ, Peeters B, Chen ZN, Bian H.
Construction of recombinant Newcastle disease virus Italien strain for oncolytic virotherapy of tumors.
Hum Gene Ther. 2012 Jul;23(7):700-10.
30.Du Q, Hu B, An HM, Shen KP, Xu L, Deng S, Wei MM.
Synergistic anticancer effects of curcumin and resveratrol in Hepa1-6 hepatocellular carcinoma cells.
Oncol Rep. 2013 May;29(5):1851-8.
31.Hu Z, Xing Y, Qian Y, Chen X, Tu J, Ren L, Wang K, Chen Z.
Anti-radiation damage effect of polyethylenimine as a toll-like receptor 5 targeted agonist.
J Radiat Res. 2013 Mar 1;54(2):243-50.
32.Wang K, Ping S, Huang S, Hu L, Xuan H, Zhang C, Hu F.
Molecular mechanisms underlying the in vitro anti-inflammatory effects of a flavonoid-rich ethanol extract fromchinese propolis (poplar type).
Evid Based Complement Alternat Med. 2013;2013:127672.
33.Hao Y, Ren J, Liu J, Yang Z, Liu C, Li R, Su Y.
Immunological changes of chronic oral exposure to depleted uranium in mice.
Toxicology. 2013 Jul 5;309:81-90.
34.Ma JF, Von Kalle M, Plautz Q, -M Xu F, Singh L, Wang L.
Relaxin promotes in vitro tumour growth, invasion and angiogenesis of human Saos-2 osteosarcoma cells byAKT/VEGF pathway.
Eur Rev Med Pharmacol Sci. 2013 May;17(10):1345-50.
35.Shi F, Yang Y, Kouadir M, Fu Y, Yang L, Zhou X, Yin X, Zhao D.
Inhibition of phagocytosis and lysosomal acidification suppresses neurotoxic prion peptide-induced NALP3inflammasome activation in BV2 microglia.
J Neuroimmunol. 2013 Jul 15;260(1-2):121-5.
36.Li Z, Gao Q.
Induction of apoptosis in HT-29 cells by quercetin through mitochondria-mediated apoptotic pathway.
Animal Cells and Systems. 2013; 17(3):147-153.
37.Hao Y, Ren J, Liu C, Li H, Liu J, Yang Z, Li R, Su Y.
Zinc Protects Human Kidney Cells from Depleted Uranium-induced Apoptosis.
Basic Clin Pharmacol Toxicol. 2014 Mar;114(3):271-80.
38.Chen Z, Zhu M, Pan X, Zhu Y, Yan H, Jiang T, Shen Y, Dong X, Zheng N, Lu J, Ying S,Shen Y.
Inhibition of Hepatitis B virus replication by SAMHD1.
Biochem Biophys Res Commun. 2014 Aug 8;450(4):1462-8.
39.Lu W, Zuo Y, Feng Y, Zhang M.
SIRT5 facilitates cancer cell growth and drug resistance in non-small cell lung cancer.
Tumour Biol. 2014 Nov;35(11):10699-705.
40.Chen Z, Ye X, Tang N, Shen S, Li Z, Niu X, Lu S, Xu L.
The histone acetylranseferase hMOF acetylates Nrf2 and regulates anti-drug responses in human non-small cell lung cancer.
Br J Pharmacol. 2014 Jul;171(13):3196-211.
41.Shi JX, Li JS, Hu R, Shi Y, Su X, Guo XJ, Li XM.
Tristetraprolin is involved in the glucocorticoid-mediated interleukin 8 repression.
Int Immunopharmacol. 2014 Oct;22(2):480-5.
42.Wang YT, Lu XM, Zhu F, Zhao M.
The preparation of gold nanoparticles and evaluation of their immunological function effects on rats.
Biomed Mater Eng. 2014;24(1):885-92.
43.Ma X, Zhao T, Ouyang T, Xin S, Ma Y, Chang M.
Propranolol enhanced adipogenesis instead of induction of apoptosis of hemangiomas stem cells.
Int J Clin Exp Pathol. 2014 Jun 15;7(7):3809-17.
44.Yang C, Fan J, Zhuang Z, Fang Y, Zhang Y, Wang S.
The role of NAD(+)-dependent isocitrate dehydrogenase 3 subunit α in AFB1 induced liver lesion.
Toxicol Lett. 2014 Jan 30;224(3):371-9.
45.Jiang LM, Nie SP, Zhou HL, Huang DF, Xie MY.
Carboxymethylation enhances the maturation-inducing activity in dendritic cells of polysaccharide from the seeds of Plantago asiatica L.
Int Immunopharmacol. 2014 Oct;22(2):324-31.
46.Liu Y, Liu H, Zou J, Zhang B, Yuan Z.
Dengue virus subgenomic RNA induces apoptosis through the Bcl-2-mediated PI3k/Akt signaling pathway.
Virology. 2014 Jan 5;448:15-25.
47.Liu XD, Zhang FB, Zhou B, Shan H, Chen PY.
Effect of sonication on different quality parameters of Pinus massoniana pollen.
Ultrason Sonochem. 2015 Jan;22:174-81.
48. Zhang B, Peng X, Li G, Xu Y, Xia X, Wang Q.
Oxidative stress is involved in Patulin induced apoptosis in HEK293 cells.
Toxicon. 2015 Feb;94:1-7.
49. Peng X, Zhuang DD, Guo QS.
Induction of S phase arrest and apoptosis by ethyl acetate extract from Tetrastigma hemsleyanum in humanhepatoma HepG2 cells.
Tumour Biol. 2015 Apr;36(4):2541-50.
50. Yang S, Hao J, Guo X, Huang H, Cui R, Lin G, Li C, Dong J, Sun B.
Eu 3+: Y 2 O 3@ CNTs—a rare earth filled carbon nanotube nanomaterial with low toxicity and good photoluminescence properties.
RSC Advances. 2015;5(28):21634-9.
51.Liu XD, Zhang FB, Zhou B, Shan H, Chen PY.
Effect of sonication on different quality parameters of Pinus massoniana pollen.
Ultrason Sonochem. 2015 Jan;22:174-81.
52.Ma Q, Chen Z, Jia G, Lu X, Xie X, Jin W.
The histone demethylase PHF8 promotes prostate cancer cell growth by activating the oncomiR miR-125b.
Onco Targets Ther. 2015 Aug 10;8:1979-88.
53.Chen X, Bo L, Zhao X, Chen Q.
MicroRNA-133a inhibits cellproliferation, colony formation ability, migration and invasion by targeting matrixmetallopeptidase 9 in hepatocellular carcinoma.
Mol Med Rep. 2015 May;11(5):3900-7.
54.Jin Y, Liu L, Zhang S, He R, Wu Y, Chen G, Fu Z.
Cadmium exposure to murine macrophages decreases their inflammatory responses and increases theiroxidative stress.
Chemosphere. 2015 Sep 9;144:168-75.
55.Wu F, Song H, Zhang Y, Zhang Y, Mu Q, Jiang M, Wang F, Zhang W, Li L, Li H, Wang Y, Zhang M, Li S, Yang L, Meng Y, Tang D.
Irisin Induces Angiogenesis in Human Umbilical Vein Endothelial Cells In Vitro andin Zebrafish Embryos In Vivovia Activation of the ERK Signaling Pathway.
PLoS One. 2015 Aug 4;10(8):e0134662.
56.Zhu G, Chen X, Mao Y, Kang L, Ma X, Jiang Y.
Characterization of annexin A2 in chicken follicle development: Evidence for its involvement in angiogenesis.
Anim Reprod Sci. 2015 Oct;161:104-11.
57.Liu S, Huang H.
Effects of epicatechin gallate (ECG) on fetal bovine serum (FBS)-induced steatosis in human liver cell line L02 and 2, 2′-azobis (2-amidinopropane)(AAPH)-induced oxidative stress in human erythrocytes.
European Food Research and Technology. 2015 Jun 26;16(7):14511-25.
58.Peng Y, Fu ZZ, Guo CS, Zhang YX, Di Y, Jiang B, Li QW.
Effects and Mechanism of Baicalin on Apoptosis of Cervical Cancer HeLa Cells In -vitro.
Iran J Pharm Res. 2015 Winter;14(1):251-61.
59.Wang JJ, Sun L.
Ferritin M of Paralichthys olivaceus possesses antimicrobial and antioxidative properties.
Fish Physiol Biochem. 2015 Aug;41(4):951-9.
60.Tong Z, Jiang B, Wu Y, Liu Y, Li Y, Gao M, Jiang Y, Lv Q, Xiao X.
MiR-21 Protected Cardiomyocytes against Doxorubicin-Induced Apoptosis by Targeting BTG2.
Int J Mol Sci. 2015 Jun 26;16(7):14511-25.
61.Liu L, Lear Z, Hughes DJ, Wu W, Zhou EM, Whitehouse A, Chen H, Hiscox JA.
Resolution ofthe cellular proteome ofthe nucleocapsid protein froma highly pathogenic isolate of porcinereproductive and respiratory syndrome virus identifies PARP-1 as a cellular target whose interaction is critical for virus biology.
Vet Microbiol. 2015 Mar 23;176(1-2):109-19.
62.Jin H F, Liu X W, Tang Y M, Tang L J, Wang Y L, Du C Q.
Effects of total flavones from Dendranthema morifolium on vasocontraction and proliferation of vascular smooth muscle cells.
Molecular Medicine Reports. 2015 Thu;13(1):989-93.
63.Peng X, Zhang T, Zhang J.
Effect of subculture times on genetic fidelity, endogenous hormone level and pharmaceutical potential of Tetrastigma hemsleyanum callus.
Tissue and Organ Culture (PCTOC). 2015 Jul;122(1):67-77.
64.Chen J J, Gao L J, Liu T J.
Photodynamic therapy with a novel porphyrin-based photosensitizer against human gastric cancer.
Oncology Letters. Monday. 2015 Nov;23:775-81.
65.Zhou H, Li J, Yuan J, Chen T, Deng H, Zhang J, Zeng H, Shan Z, Chen W.
Effects and mechanism of arsenic trioxide in combination with rmhTRAIL in multiple myeloma.
Exp Hematol. 2016 Feb;44(2):125–31.
66.Chen H, Li Y, Shi J, Song W.
Role and mechanism of insulin-like growth factor 2 on the proliferation of human trophoblasts in vitro.
J Obstet Gynaecol Res. 2016 Jan;42(1):44–51 .
67.Jin Y, Chen G, Fu Z.
Effects of TBEP onthe induction of oxidative stress and endocrine disruption in Tm3 Leydig cells.
Environ Toxicol. 2016 Oct;31(10):1276–86 .
68.Du Y, Zhang S, Yu T, Du G, Zhang H, Yin Z .
Wnt3a is critical for endothelial progenitor cell-mediated neural stem cell proliferation and differentiation.
Mol Med Rep. 2016 Sep;14(3):2473-82.
69.Hu W, Zhang W, Li F, Guo F, Chen A .
miR-139 is up-regulated in osteoarthritis and inhibits chondrocyte proliferation and migration possiblyvia suppressing EIF4G2 and IGF1R.
Biochem Biophys Res Commun. 2016 May 27;474(2):296-302.
70.Qin W, Xie W, Yang X, Xia N, Yang K.
Inhibiting microRNA-449 Attenuates Cisplatin-Induced Injury in NRK-52E Cells Possibly via Regulatingthe SIRT1/P53/BAX Pathway.
Med Sci Monit. 2016 Mar 12;22:818-23.
71.Li JP, Ma Q, Chen CM.
Mitochondrial dysfunction in resveratrol-induced apoptosis in QGY-7701 cells.
Genet Mol Res. 2016 Mar 24;15(1). doi: 10.4238/gmr.15017490.
72.Jin Y, Liu L, Zhang S, He R, Wu Y, Chen G, Fu Z.
Cadmium exposure to murine macrophages decreases their inflammatory responses and increases theiroxidative stress.
Chemosphere.2016 Feb;144:168-75.
73.Gong K, Qu B, Liao D, Liu D, Wang C, Zhou J, Pan X.
MiR-132 regulates osteogenic differentiation via downregulating Sirtuin1 in a peroxisome proliferator-activated receptor β/δ-dependent manner.
Biochem Biophys Res Commun. 2016 Sep 9;478(1):260-7.
74.Zhang C, Liang W, Zhang W, Li C.
Characterization of a metalloprotease involved in Vibrio splendidus infection in the sea cucumber,Apostichopus japonicus.
Microb Pathog. 2016 Dec;101:96-103.
75.Wang S, Zhou J, Kang W, Dong Z, Wang H.
Tocilizumab inhibits neuronal cell apoptosis and activates STAT3 in cerebral infarction rat model.
Bosn J Basic Med Sci. 2016 Jan 15;16(2):145-50.
76.Yan Y, Jiang Y.
RACK1 affects glioma cell growth and differentiation through the CNTN2-mediated RTK/Ras/MAPKpathway.
Int J Mol Med. 2016 Jan;37(1):251-7.
77.Yu P, Guo Y, Yusufu M, Liu Z, Wang S, Yin X, Peng G, Wang L, Zhao X, Guo H, Huang T, Liu C.
Decreased expression of EZH2 reactivates RASSF2A by reversal of promoter methylation in breastcancer cells.
Cell Biol Int. 2016 Oct;40(10):1062-70.
78.Chen H, Li Y, Shi J, Song W.
Role and mechanism of insulin-like growth factor 2 on the proliferation of human trophoblasts in vitro.
J Obstet Gynaecol Res. 2016 Jan;42(1):44-51.
79.Xu H, Jin L, Chen Y, Li J.
Downregulation of microRNA-429 protects cardiomyocytes against hypoxia-induced apoptosis byincreasing Notch1 expression.
Int J Mol Med. 2016 Jun;37(6):1677-85.
80.Du X, Li Q, Pan Z, Li Q.
Androgen receptor and miRNA-126* axis controls follicle-stimulating hormone receptor expression inporcine ovarian granulosa cells.
Reproduction. 2016 Aug;152(2):161-9.
81.Wang Y, Wang X, Shang J, Liu H, Yuan Y, Guo Y, Huang B, Zhou Y.
Repairing the ruptured annular fibrosus by using type I collagen combined with citric acid, EDC andNHS: an in vivo study.
Eur Spine J. 2016 Dec 21. doi: 10.1007/s00586-016-4898-1. [Epub ahead of print]
82.Luo SW, Wang WN, Sun ZM, Xie FX, Kong JR, Liu Y, Cheng CH.
Molecular cloning, characterization and expression analysis of (B-cell lymphoma-2 associated X protein)Bax in the orange-spotted grouper (Epinephelus coioides) after the Vibrio alginolyticus challenge.
Dev Comp Immunol. 2016 Jul;60:66-79.
83.Yin C, Liang Y, Zhang J, Ruan G, Li Z, Pang R, Pan X.
Umbilical Cord-Derived Mesenchymal Stem Cells Relieve Hindlimb Ischemia through EnhancingAngiogenesis in Tree Shrews.
Stem Cells Int. 2016;2016:9742034.
84.Wang X, Mu G, Dang R, Yang Z.
Up-regulation of IL-10 upon PRRSV vaccination impacts on the immune response against CSFV.
Vet Microbiol. 2016 Dec 25;197:68-71.
85.Wang X, Cao H, Guan XL, Long LH, Hu ZL, Ni L, Wang F, Chen JG, Wu PF.
Sulfite triggers sustained calcium overload in cultured cortical neurons via a redox-dependentmechanism.
Toxicol Lett. 2016 Sep 6;258:237-48.
86.Cui H, Ma C, Lin L.
Co-loaded proteinase K/thyme oil liposomes for inactivation of Escherichia coli O157:H7 biofilms oncucumber.
Food Funct. 2016 Sep 14;7(9):4030-4040.
87.Zhang X, Wu D, Aldarouish M, Yin X, Li C, Wang C.
ETS-1: A potential target of glycolysis for metabolic therapy by regulating glucose metabolism inpancreatic cancer.
Int J Oncol. 2017 Jan;50(1):232-240.
88.Liu Y, Feng J, Zhao M, Wu J, Fan J, Wen Q, Xu J, Zhang J, Fu S, Wang B, Lu Y, Xiong K, Xiang L, Zhang Y, Yang L.
JNK pathway inhibition enhances chemotherapeutic sensitivity to Adriamycin in nasopharyngealcarcinoma cells.
Oncol Lett. 2017 Aug;14(2):1790-1794.
89.Fang F, Song T, Zhang T, Cui Y, Zhang G, Xiong Q.
MiR-425-5p promotes invasion and metastasis of hepatocellular carcinoma cells through SCAI-mediated dysregulation of multiple signaling pathways.
Oncotarget. 2017 May 9;8(19):31745-31757.
90.Wu J, Liu Z, Su J, Pan N, Song Q.
Anti-inflammatory activity of3β-hydroxycholest-5-en-7-one isolated from Hippocampustrimaculatus leach via inhibiting iNOS,TNF-α,and1L-1βof LPS induced RAW 264.7 macrophage cells.
Food Funct. 2017 Feb 22;8(2):788-795.
91.Liu J, Li Y, Luo M, Yuan Z, Liu J.
MicroRNA-214 inhibits the osteogenic differentiation of human osteoblasts throughthe directregulation of baculoviral IAP repeat-containing 7.
Exp Cell Res. 2017 Feb 15;351(2):157-162.
92.Liu Y, Tang J, Gao X, Wang M, Shen J, You X.
Effect of retinoid X receptor-α nuclear export inhibition on apoptosis of neurons in vivo and in vitro.
Mol Med Rep. 2017 Aug;16(2):2037-2044.
93.Li S, Liu X, Lei J, Yang J, Tian P, Gao Y.
Crocin Protects Podocytes Against Oxidative Stress and Inflammation Induced by High Glucose Through Inhibition of NF-κB.
Cell Physiol Biochem. 2017;42(4):1481-1492.
94.Huang R, Hu Z, Feng Y, Yu L, Li X.
The Transcription Factor IRF6 Co-Represses PPARγ-Mediated Cytoprotection in IschemicCerebrovascular Endothelial Cells.
Sci Rep. 2017 May 19;7(1):2150.
95.Liu X, Liu H, Zhai Y, Li Y, Zhu X, Zhang W.
Laminarin protects against hydrogen peroxide-induced oxidative damage in MRC-5 cellspossibly via regulating NRF2.
PeerJ. 2017 Jul 31;5:e3642.
96.Zou Z, Meng Z, Ma C, Liang D, Sun R, Lan K.
Guanylate-Binding Protein 1 Inhibits Nuclear Delivery of Kaposi's Sarcoma-AssociatedHerpesvirus Virions by Disrupting Formation of Actin Filament.
J Virol. 2017 Jul 27;91(16). pii: e00632-17.