| | | | |
| --- | --- | --- | --- |
| 产品编号 | 产品名称 | 产品包装 | 产品价格 |
| D0033 | PCR纯化试剂盒/DNA纯化试剂盒 | 50次 | 142.00元 |
碧云天的PCR纯化试剂盒(PCR Clean Up Kit),也称DNA纯化试剂盒(DNA Purification Kit)是一种用于PCR产物纯化或从多种DNA反应体系中纯化DNA的试剂盒。
适用于PCR反应后去除引物、酶、矿物油、甘油、盐等杂质;也同样适用于酶切、连接、磷酸化、补平或切平、随机引物等反应后的DNA纯化。纯化所得DNA可直接用于酶切、连接、转化细菌、测序、PCR、杂交等后续操作。本试剂盒适用于纯化100bp-10kb DNA,长至30个碱基的引物均可被完全去除。
本试剂盒采用了一种新型的DNA纯化柱。在特定条件下,使DNA能在离心过柱的瞬间,结合到DNA纯化柱上,在一定条件下又能将DNA充分洗脱,从而实现DNA的快速纯化。无需酚氯仿抽提,无需酒精沉淀,12个样品只需不足15分钟即可完成。
每个DNA纯化柱可以结合的DNA量的上限约为15微克。
DNA回收效率约为90%。接近100bp或10kb的DNA片段回收效率要略低一些,大于10kb的DNA回收效率迅速下降。另外如果样品中DNA含量特别低也会导致回收效率下降。本试剂盒的纯化效果参见图1。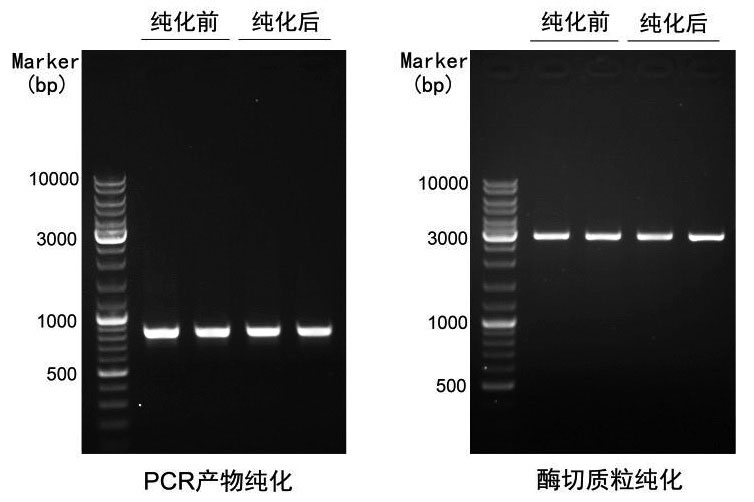 图1. 本试剂盒纯化效果图。本图仅作参考,不同的样品不同的纯化条件,实际的纯化效果可能和上图有一定的差别。
本试剂盒足够纯化50个平均体积不超过400微升的DNA样品。
包装清单:
| | | |
| --- | --- | --- |
| 产品编号 | 产品名称 | 包装 |
| D0033-1 | 溶液I (DNA纯化结合液) | 20ml |
| D0033-2 | 溶液II (洗涤液) | 26ml (第一次使用前加入39ml无水乙醇) |
| D0033-3 | 溶液III (洗脱液) | 3ml |
| D0033-4 | DNA纯化柱及废液收集管 | 50套 |
| — | 说明书 | 1份 |
保存条件:
室温保存,一年有效。
注意事项:
第一次使用前在溶液II(洗涤液)中加入39ml无水乙醇,混匀,并在瓶上做好标记。
溶液I对人体有刺激性,操作时请小心,并注意适当防护以避免直接接触人体或吸入体内。
本试剂盒所有操作均在室温进行,操作时无需冰浴。所有离心也均在室温进行。
废液收集管在一次抽提中需多次使用,切勿中途丢弃。
本产品仅限于专业人员的科学研究用,不得用于临床诊断或治疗,不得用于食品或药品,不得存放于普通住宅内。
为了您的安全和健康,请穿实验服并戴一次性手套操作。
使用说明:
1. 加入
等体积的溶液
I
,混匀。
例如
DNA样品体积为100
微升,则加
100
微升溶液I。如果等体积混合后体积较大,可以把部分样品加入
到纯化柱内,经离心处理后,再加入剩余的样品继续处理。矿物油对于本试剂盒没有干扰。
2. 把与溶液
I等体积混匀的样品加入到DNA
纯化柱内,室温放置
1
分钟
。通常室温放置数秒待溶液浸润到纯
化柱中即可。
3. 最高速
(16,000g,约12,000-14,000rmp左右)
离心
1分钟,
倒弃收集管内的液体。
注意:这一步尽量要达到
16,000g
,较低离心速度会导致回收效率下降。
4. 在
DNA
纯化柱内加入
700微升溶液II
,室温放置
1
分钟
。
5. 最高速离心
1
分钟
,洗去杂质。倒弃收集管内的液体。
6. 再加入
500微升溶液II
,最高速离心
1
分钟
,进一步洗去杂质。倒弃收集管内的液体。
7. 最高速再离心
1
分钟
,除去残留液体并让残留的乙醇充分挥发。
8. 将
DNA纯化柱置于1.5
毫升离心管上,加入
50微升溶液III
至管内柱面上,放置
1
分钟
。
用
1.5ml
离心管作为收集管。溶液
III
需要直接加至管内柱面中央,使液体被纯化柱吸收。如果不慎将溶
液
III
沾在管壁上,一定要震动管子,使液体滑落到管底,以便被纯化柱吸收。也可以用重蒸水或
Milli-Q
级纯水替代溶液
III
,但是水的pH值应不小于
6.5
。如需得到较高浓度的
DNA
,可以只加
20-30
微升溶液
III
,但产量会略有下降。放置较长时间例如
3-5
分钟,会对提高产量略有帮助。
9. 最高速离心
1
分钟
,所得液体即为高纯度
DNA
。
使用本产品的文献:
1. Wen-guang Zhou, Yu-tuo Wei, Kun Huang and Ri-bo Huang.
Cloning and expression of glycerol dehydratase gene from Klebsiella pneumoniae in Escherichia coli.
Indust Microbiol. 2004;34(2): 1-4.
2. Luan YX, Yao YG, Xie RD, Yang YM, Zhang YP, Yin WY.
Analysis of 18S rRNA gene of Octostigma sinensis (Projapygoidea: Octostigmatidae) supports the monophyly of Diplura.
Pedobiologia. 2004;48:453-459.
3. Cong L, Li Y, Yu M, Ye H, Zhang X, Hu R.
Changes of gene expressions of chymase and angiotensin2converting enzyme in heart of diabetic hamster.
Chin J Diabetes. 2005; 13(6):459-462.
4. Qian YF, Wang H, Yao WB, Gao XD.
Aqueous extract of the Chinese medicine, Danggui-Shaoyao-San, inhibits apoptosis in hydrogen peroxide-induced PC12 cells by preventing cytochrome c release and inactivating of caspase cascade.
Cell Biol Int. 2008 Feb;32(2):304-11.
5. Jiang CY, Sheng XF, Qian M, Wang QY.
Isolation and characterization of a heavy metal-resistant Burkholderia sp. from heavy metal-contaminated paddy field soil and its potential in promoting plant growth and heavy metal accumulation in metal-polluted soil.
Chemosphere. 2008 May;72(2):157-64.
6. Sheng XF, Xia JJ, Jiang CY, He LY, Qian M.
Characterization of heavy metal-resistant endophytic bacteria from rape (Brassica napus)roots and their potential in promoting the growth and lead accumulation of rape.
Environ Pollut. 2008 Dec;156(3):1164-70.
7. Qiao Y, Huang Y, Qiu C, Yue X, Deng L, Wan Y, Xing J, Zhang C, Yuan S, Dong A, Xu J.
The use of PEGylated poly [2-(N,N-dimethylamino) ethyl methacrylate] as a mucosal DNA delivery vector and the activation of innate immunity and improvement of HIV-1-specific immune responses.
Biomaterials. 2010 Jan;31(1):115-23.
8. Chai J, Xiong Q, Zhang P, Zheng R, Peng J, Jiang S.
Induction of Ca2+ signal mediated apoptosis and alteration of IP3R1 and SERCA1 expression levels by stress hormone in differentiating C2C12 myoblasts.
Gen Comp Endocrinol. 2010 Apr 1;166(2):241-9.
9. He LY, Zhang YF, Ma HY, Su LN, Chen ZJ, Wang QY, Qian M, Sheng XF.
Characterization of copper-resistant bacteria and assessment of bacterial communities in rhizosphere soils of copper-tolerant plants.
Applied Soil Ecology 2010;44:49-55.
10.Zhang YF, He LY, Chen ZJ, Wang QY, Qian M, Sheng XF.
Characterization of ACC deaminase-producing endophytic bacteria isolated from copper-tolerantplants and their potential in promoting the growth and copper accumulation of Brassica napus.
Chemosphere. 2011 Mar;83(1):57-62.
11.QIU H, XU ZR, SHAO XJ, ZHOU YH, XU L, WU SL.
Binding Analysis of Transcription Factor Ets-1 with the Upstream Sequence of β1,3-N-Acetylglucosaminyltransferase Gene.
中国生物化学与分子生物学报. 2012 Jan;28( 1) : 61-65.
12.Ren H, Zhu F, Zheng C, Sun X, Wang W, Shu H.
Transcriptome analysis reveals genes related to floral development in chrysanthemum responsive tophotoperiods.
Biochem Genet. 2013 Feb;51(1-2):20-32.
13.Zhou W, Zhang H, Ma Y, Zhou J, Zhang Y.
Bio-removal of cadmium by growing deep-sea bacterium Pseudoalteromonas sp. SCSE709-6.
Extremophiles. 2013 Sep;17(5):723-31.
14.Zhang X, Liu W, Yang H, Tan L, Ao L, Liu J, Cao J, Cui Z.
Inhibition of PPARα attenuates vimentin phosphorylation on Ser-83 and collapse of vimentin filaments during exposure of rat Sertoli cells in vitro to DBP.
Reprod Toxicol. 2014 Dec;50:11-8.
15.Chen H, Long H, Cui X, Zhou J, Xu M, Yuan G.
Exploring the formation and recognition of an important G-quadruplex in a HIF1α promoter and its transcriptional inhibition by a benzo[c]phenanthridine derivative.
J Am Chem Soc. 2014 Feb 12;136(6):2583-91.
16.Peng C, Chen J, Tang W, Liu C, Chen X.
Kaposi's sarcoma-associated herpesvirus ORF6 gene is essential in viral lytic replication.
PLoS One. 2014 Jun 9;9(6):e99542.
17.Lin B, Lyu J, Lyu XJ, Yu HQ, Hu Z, Lam JC, Lam PK.
Characterization of cefalexin degradation capabilities of two Pseudomonas strains isolated from activated sludge.
J Hazard Mater. 2015 Jan 23;282:158-64.
18.Zhang JF, Qu LS, Qian XF, Xia BL, Mao ZB, Chen WC.
Nuclear transcription factor CDX2 inhibits gastric cancer cell growth and reverses epithelial to mesenchymal transition in vitro and in vivo.
Mol Med Rep. 2015 Oct;12(4):5231-8.
19.Lin B, Lyu J, Lyu XJ, Yu HQ, Hu Z, Lam JC, Lam PK.
Characterization of cefalexin degradation capabilities of two Pseudomonas strains isolated from activated sludge.
J Hazard Mater. 2015 Jan 23;282:158-64.
20.Wang S, Sun Z, Zhang X, Li Z, Wu M, Zhao W, Wang H, Chen T, Yan H, Zhu J.
Wnt1 positively regulates CD36 expression via TCF4 and PPAR-γ in macrophages.
Cell Physiol Biochem. 2015 Mar;35(4):1289-302.
21.Zhang L, Pei Y, Wang H, Jin Z, Liu Z, Qiao Z, Fang H, Zhang Y.
Hydrogen Sulfide Alleviates Cadmium-Induced Cell Death through Restraining ROS Accumulation in Roots of Brassica rapa L. ssp. pekinensis.
Oxid Med Cell Longev. 2015;2015:804603.
22.Pan J, Yang Q, Shao J, Zhang L, Ma J, Wang Y, Jiang BH, Leng J, Bai X.
Cyclooxygenase-2 induced β1-integrin expression in NSCLC and promoted cell invasion via theEP1/MAPK/E2F-1/FoxC2 signal pathway.
Sci Rep. 2016 Sep 22;6:33823.
23.Jin W, Liu M, Peng J, Jiang S.
Function analysis of Mef2c promoter in muscle differentiation.
Biotechnol Appl Biochem. 2016 Jun 29. doi: 10.1002/bab.1524. [Epub ahead of print]
24.Chen Y, Hu W, Huang C, Hua S, Wei Q, Bai C, Chen J, Norris MB, Winn R, Yang D, Dong Q.
Subchronic perfluorooctanesulfonate (PFOS) exposure induces elevated mutant frequency in an in vivo λtransgenic medaka mutation assay.
Sci Rep. 2016 Dec 8;6:38466.
25.Wei X, Cheng X, Peng Y, Zheng R, Chai J, Jiang S.
STAT5a promotes the transcription of mature mmu-miR-135a in 3T3-L1 cells by binding to both miR-135a-1and miR-135a-2 promoter elements.
Int J Biochem Cell Biol. 2016 Aug;77(Pt A):109-19.
26.Liu X, Zhou W, Zhang X, Lu P, Du Q, Tao L, Ding Y, Wang Y, Hu R.
Dimethyl fumarate ameliorates dextran sulfate sodium-induced murine experimental colitis by activatingNrf2 and suppressing NLRP3 inflammasome activation.
Biochem Pharmacol. 2016 Jul 15;112:37-49.
27.Huang K, Yang C, Wang QX, Li YS, Fang C, Tan YL, Wei JW, Wang YF, Li X, Zhou JH, Zhou BC, Yi KK, Zhang KL, Li J, Kang CS.
The CRISPR/Cas9 system targeting EGFR exon 17 abrogates NF-κB activation via epigenetic modulation ofUBXN1 in EGFRwt/vIII glioma cells.
Cancer Lett. 2016 Dec 18;388:269-280.
28.Liu C, Cai D, Zhang L, Tang W, Yan R, Guo H, Chen X.
Identification of hydrolyzable tannins (punicalagin, punicalin and geraniin) as novel inhibitors of hepatitis Bvirus covalently closed circular DNA.
Antiviral Res. 2016 Oct;134:97-107.
29.Chen B, Li L, Ren W, Yi L, Wang Y, Yan F.
A novel missense mutation inthe ALPL gene causes dysfunction of the protein.
Mol Med Rep. 2017 Jul;16(1):710-718.
30.Wang X, Ma A, Han X, Litifu A, Xue F.
ASAP1 gene polymorphisms are associated with susceptibility to tuberculosis in a ChineseXinjiang Muslim population.
Exp Ther Med. 2018 Apr;15(4):3392-3398.
31.Shi Y, Hu Y, Wang J, Elzo MA, Yang X, Lai S.
Genetic diversities of MT-ND1 and MT-ND2 genes are associated with high-altitude adaptation in yak.
Mitochondrial DNA A DNA Mapp Seq Anal. 2018 Apr;29(3):485-494.
32.Zhao C, Wu H, Qimuge N, Pang W, Li X, Chu G, Yang G.
MAT2A promotes porcine adipogenesis by mediating H3K27me3 at Wnt10b locus and repressingWnt/β-catenin
signaling.
Biochim Biophys Acta. 2018 Feb;1863(2):132-142.
33.Huangfu N, Xu Z, Zheng W, Wang Y, Cheng J, Chen X.
LncRNA MALAT1 regulates oxLDL-induced CD36 expression via activating β-catenin.
Biochem Biophys Res Commun. 2018 Jan 15;495(3):2111-2117.
34.Zhang Y, Guan Q, Liu Y, Zhang Y, Chen Y, Chen J, Liu Y, Su Z.
Regulation of hepatic gluconeogenesis by nuclear factor Y transcription factor in mice.
J Biol Chem. 2018 Mar 12. pii: jbc.RA117.000508.